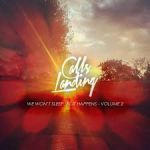 Calls Landing from Leeds released their new EP, 'We Won't Sleep 'til It Happens, Vol.2', which manages to be a nice nod to their influences and a more forward facing 6-track EP. It steps in a more considered and indie/emo direction than their previous volume ('WWSTIHV1') did.
There's a strong influence of early 2000s emo, with really strong 'Deja Entendu' era Brand New vibes in 'Steady The Change', and whilst I loathe to do comparisons like that, I do think it's fair. While the band seem a bit allergic to distortion (oddly refreshing), they manage to get the warmth in the vocals of an evening spent by the fire with a few drinks, almost sedate, but there's still hints of whiney-ness occasionally.
'Baronette' is a ballad charting a relationship from the initial lust of "as long as she likes brand new, i like her and she likes me too" to the breakup and annoyance over loss of "I'll be asking why she stole all my CDs". It's pretty standard fare, but there's some amusing lines. the vocal harmonies work really well, and the interlude trailing off towards the end with the mixing of harmonies makes it.
'Daisy Chains' has a more upbeat chorus; the guitar riff makes it toe-tappable. I could definitely see this being a big thing for fans of The Wonder Years, with the thoughts on home and procrastination and what "putting your life on hold for going on tour" is like. It's not instant, but it's a good track.
We Won't Sleep 'Til It Happens – Volume 2 by Calls Landing
'We Miss You Pluto' ends things on a more upbeat jaunty note, with poppy whoa's permeating the verses and making it pretty singable. There's some lovely guitar work, and a positive message about doing your own thing and not worrying about others. It's got some melancholic notes about how hard it is to find true friends mixed in, but their answer is that you need to believe in yourself.
The production on this feels a little bit too rushed in places, but on the whole its an interesting EP, and there's some cool ideas and sounds on it. I would like to catch them live and see how things translate there. Things could definitely sound a bit fuller, but it's a good start. I suspect we will be hearing a lot more from Calls Landing.
3.5/5
'We Won't Sleep 'til It Happens, Vol. 2' by Calls Landing is out now.
Calls Landing links: Bandcamp|Facebook|Twitter
Words by Heather Robertson (@thecuriosity)