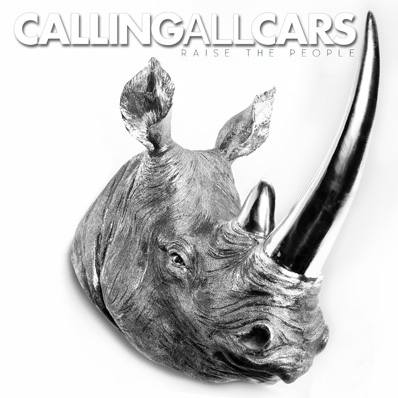 Calling All Cars is an Australian band that have gained so much respect since their inception in 2005. They tour relentlessly and sprinkle their music like confetti. The act have recorded a new album called 'Raise The People', which is engineered with an annoying strain of uninspiring songs. Finding any monumental contributions is like trying to fight a roaring lion with no arms.
Delving into this bubblegum music, trying to dissect it for some wholesome goodness is complex. The electronic sound is mashed up with the same beat over and over again. The band attempt to drag out their feelings and showcase them through their unhinged music, but it just doesn't work. The music is manic and is a disservice to the genre that they loosely commit to. The album offers a sweetness that the kids of today might bite into. It might be a record that you might play at a party when heavily under the influence.
The record opens with 'Raise The People'. A simple riff is thrown down until the raised vocals pounce. The chorus isn't majestic or pleasing, it sounds like its been done before, ripped from the same book. 'Werewolves' is like a fragile, damaged wall, drab and pointless. An annoying drone fills the song, offering a headache more than a pleasurable musical experience.
'Running On The Sun' starts with la la's. The vocals sound like they're processed through a computer, there are no organic swirls of sound. The lyrics aren't poetic or dressed in melody, they've been written with no thought or passion. Looking 'Through Your Window' begins with a vocal input. The riff is overweight and doesn't flourish or change. The record doesn't rise, it falters.
Calling All Cars is a band that haven't struck gold on their new record. They've struck brick.
0/5
'Raise the People' by Calling All Cars is out now on Cooking Vinyl.
Calling All Cars links: Website|Facebook|Twitter
Words by Mark McConville (@Writer1990Mark)