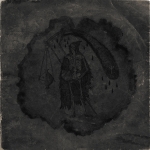 "And now the biggest part, is all about the image and not the art". These are the words of New York hardcore band H2O's 2008 song 'What Happened?' and four years later, the doyens of the hardcore scene are perhaps more fashion-conscious than ever before. Bands like Your Demise, who were mocked widely for going through several costume changes in the video for 'These Lights', or South Wales mob Brutality Will Prevail, who have become valued not for their music, but the prices their t-shirts fetch on eBay. This has seen them dismissed all-too-often as simply "fashioncore", a real shame as 2010 full-length 'The Root Of All Evil' was an absolute barnstormer.
Follow-up 'Scatter The Ashes' picks up where the aforementioned full length and last year's three-tracker 'Sleep Paralysis'' left off – after a country & western-flavoured intro track, descending into howls of feedback, the foreboding opening riff of 'Sins Of Commitment' starts up. Reminiscent of bands along the lines of Rise And Fall and Trap Them, it gives an initial flavour of the range of influences brought in on this album, whilst setting the tone for the proceeding events. The tracks immediately following the opener are quite straightforward, doom-laden thoroughfare fairly reminiscent of bands like Hatebreed, Down and Broken Teeth, and should get crowds two-stepping in-between visits to the merch stand.
It's in the latter part of the album, after trip-hop-esque interlude 'Hallucination', where things really get interesting. 'Fallen Apart' is a hefty slow-burner, reminiscent of 'Hail Destroyer'-era Cancer Bats, a welcome departure into the groove-centric side of things rather than the relentless onslaught of earlier offerings. Things get even more interesting on the finale, eponymous track 'Scatter The Ashes', where the band employ soaring bluesy riffs underneath a surprisingly excellent clean vocal from frontman Ajay, creating an effect similar to splicing Black Sabbath and Tom Waits. A sign of things to come? We can only hope.
'Scatter The Ashes' represents a real step-forward for BWP; slicker, smarter and more eclectic than previous efforts, this continues a fine vein of form for the Welshmen. Clocking in at just under 25 minutes, this never feels taxing or outstaying of its welcome – for those who like their riffs laid on thick and fast, this album cannot be recommended more highly. Whether it sees them taken more seriously outside of those that choose to see them as little more than a profit-spinning clothes store remains to be decided, but if music of this calibre keeps being produced, it won't be long before they trade in the jester's hat for the crown in the court of UK hardcore.
3.5/5
'Scatter The Ashes' by Brutality Will Prevail is released on 12th November on Purgatory Records.
Brutality Will Prevail links: Official Website|Facebook|Twitter
Words by Ollie Connors (@olliexcore)