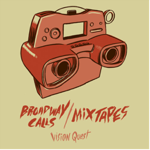 Recently Broadway Calls signed to No Sleep Records and obviously the record label wanted to showcase their newest signing to the whole world and what better way than release a split 7" Vinyl EP release. Fellow labelmates Mixtapes had just released their first full length 'Even On The Worst Nights' and had a few songs left so combine two new Broadway Calls songs and two un-released Mixtapes songs and you have 'Vision Quest'.
Starting off with Broadway Calls 'Open Letter' it is an impressive start to the EP. With heavy riffs at the start it quickly leads into some fast punk riffs and some catchy as hell sweet lyrics making it a very memorable song. 'You Got Me' is the lesser catchy of the two songs on the EP but it still brings the punk rock vibe through with a catchy chorus and old style punk rock vibe.
<a href="http://nosleepsampler.com/album/vision-quest" data-mce-href="http://nosleepsampler.com/album/vision-quest">Vision Quest by No Sleep Records</a>
Up next is Mixtapes, first song 'Little Miami' really showcases what guitarist/vocalist Maura can do as she sings the whole song on her own. Her voice fits in perfectly with the thick punk rock guitar riffs and fast paced drums, slowing down for a harmonious ending it's a great song. For the bands second song 'Puzzle Part 2 (I Don't Believe In Ghosts)' guitarist/vocalist Ryan comes in as both his and Mauras story telling style vocals complement each other well throughout the song. The main guitar riffs sound abit rougher around the edges and mix well with the lead guitar harmonies. The song finishes off with a slow acoustic guitar section where you can really hear how well Ryan and Mauras vocals gel together.
This small EP isn't going to bring in a load of new fans but it will be something long standing fans will pick up and really enjoy. And if this is what a future Broadway Calls album will sound like then fans can expect something really interesting and enjoyable.
4/5
'Vision Quest' by Broadway Calls and Mixtapes is out now on No Sleep Records.
Broadway Calls links: Facebook|Twitter|Tumblr
Mixtapes links: Website|Facebook|Twitter
Words by Aaron Wilson (@soundslikeajw)