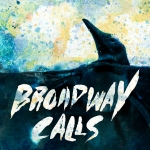 Broadway Calls are an American punk rock trio from Los Angeles. 'Comfort/Distraction' is an incredible, energetic, fast-paced punk album with punchy melodies and outstandingly powerful vocals; every track is an exhilarating listen that will get you up and dancing. 'Comfort/Distraction' was produced by the talented Bill Stevenson (NOFX, Rise Against, Descendents) at the legendary recording studio The Blasting Room.
The album begins with 'Bring on the Storm,' a vigorously fast-paced, punchy punk song with an outstandingly catchy melody. You are instantly smacked in the face by the powerfully amplified instrumental work and the superbly distinct American vocals from lead singer, Ty Vaughn. This follows with 'Open Letter' another fast-paced track with a deep base and an emotional tone.
'Minus One' has a bouncy up-beat melody that is simply captivating; you can't help but feel the need to move to this terrific track. This continues with 'Lucky Lighter,' which begins with a deep base and has a catchy chorus that you will be singing your heart out to. The track is filled with pure raw emotion and includes an exceptional electric guitar instrumental.
The favourite is 'Surrounded by Ghosts,' a typical hard-hitting punk rock track with catchy lyrics and heavy percussion; once again our ears are blessed with another outstanding electric guitar instrumental. Every track is a showcase of obscene wild passion and outstanding skills that have produced this electrifying and captivating album. Different to the rest is 'Zombie World,' a slow-paced song featuring cleverly catchy lyrics and deep heavy drum and guitar work.
Next is 'Wildly Swinging' which is a fast-paced track with a wild melody and brutally powerful beat. This is mixed with a slow-paced, emotional, catchy chorus that gets you singing along. The contrast is hard-hitting and makes this track simply amazing. 'Stealing Sailboats' follows in a similar style that showcases superb instrumental skills.
The album finishes with 'Full of Hope' a slower-paced emotional track with a punchy chorus and a fantastic melody. The entire album is crammed with smash-hit punk rock tracks that boast hard-hitting rhythms, rocky guitar riffs and marvellous instrumentals. The band has a similar style and sound to The Distillers and a more hardcore Green Day; we recommend 'Comfort/Distraction' to any avid punk rock fans. You won't be disappointed by this wickedly captivating innovative album.
4.5/5
'Comfort/Distraction' by Broadway Calls is released on 5th February through No Sleep Records.
Broadway Calls links: Facebook|Twitter
Words by Chantelle Kelly (@ChantelleKelly3)