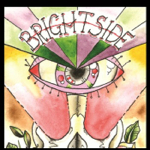 Bright Side are a fresh up and coming hardcore punk band hailing from West Lothian, Scotland. This quartet only formed back in 2012 and are already producing exceptional music that will get you head-banging along. 'Face the Unknown' is a short EP containing only three tracks, but gives you a tiny taster to the bands style and talent.
The record begins with 'Weight Of The World' a ferocious heavy hardcore track with an added punch. The instrumentals are melodic but collaborated with the angry powerful raw vocals from lead singer Ali; it creates a deep brutal style and sound.
<a href="http://thanksfornothingrecords.bandcamp.com/album/face-the-unknown" data-mce-href="http://thanksfornothingrecords.bandcamp.com/album/face-the-unknown">Face the Unknown by Bright Side</a>
The next track is 'In Remembrance , which starts with soft harmonious guitar riffs and then breaks into a fast-paced heavy beat with more outstanding violent vocal work. The melody is captivating and makes you instantly want to two-step along. The song has an awesome finish with an amazing breakdown.
The favourite is the title track 'Face The Unknown' which begins with soft sweet guitar riffs and a heavy beat from the drums. The pace begins to quicken in time with the vocals and the instrumental work is truly outstanding. The melody is dramatic and the song is screaming of gut-wrenching emotion. Lead Singer Ali finishes the song on a tremendous hardcore scream.
Bright Side are certainly a band to keep your peepers on. This Scottish punk heavy hardcore band is ready to take on the post-hardcore scene and contain the talent to do so. If you're into your hardcore punk music- this is certainly an EP for you.
4/5
'Face The Unknown' by Bright Side is out now on Thanks For Nothing Records.