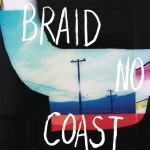 Have we reached peak emo? Has the revival gone from charming, warm-hearted niche to gratuitous overkill of a long-dead genre? We certainly reached "peak reunion" (I'll stop talking like a broadsheet churnalist soon, I promise) a while ago, and the return of Braid straddles the apex of both these metaphorical peaks, being both a key influence of many emo revival acts and 'No Coast' being their first record in 16 years. Is this the moment where the crest of the revival wave fizzles out, and the twinkledaddies fold up their plaid and go back to being history teachers? While this is no groundbreaking effort, thankfully this long-awaited follow-up is solid enough that the Illinoisan quartet can ensure the revival lives another day.
'Frame and Canvas' is inarguably a seminal record, shaping a generation of bands that followed its 1998 release; this is for emo what Refused following up 'The Shape Of Punk To Come' would be for post-hardcore. So why release a full-length now, after so long away? Braid evidently feel the have something more to offer, and with the bright manner in which 'No Coast' fizzes along, one is perfectly willing to give them the opportunity to say it. This has the bright and breezy atmosphere of a mid-period Death Cab For Cutie record, and, alongside an air of maturity lyrically, makes for a very enjoyable listen indeed. However, it's a record of no particular highs nor lows – if consistency was the name of the game here, they've hit the mark, but for anyone seeking something spectacular rather than reliable, this won't stick long in the memory; I doubt many will hark back to the release of 'No Coast' in 2030.
Braid have pulled out all the stops to ensure relevance in the overcrowded scene of the 2010s, enlisting the assistance of in-demand producer Will Yip, and his trademark "big" sound comes to the fore on songs like 'Damages!' and 'East End Hollows' (the latter of which lands melodic hooks a-plenty à la early-00s Jimmy Eat World) and the core strengths of this band (i.e. Bob Nanna's vocal and Damon Atkinson's drums) are well and truly played to. The aforementioned Nanna hasn't completely disregarded his time between periods of Braid activity, as the trademark textured, layered anthemics of his other band Hey Mercedes can be found present in 'Many Enemies'. This record ticks many boxes, and the quality level is retained throughout, but without any real standout moments, I can't see this featuring on many end-of-year lists, which is the least the band deserve after contributing so much to the groups that now form their contemporaries.
'No Coast' sounds exactly like the sort of record Braid should have made had they kept going in the first instance and were now in their late 30s, so from that perspective, this record certainly won't do much to harm the fond memories in the hearts of their existing fanbase. As for attracting new followers, this album may not have the same appeal as it would for those who'd buy a Braid record on name alone; you only have to look as far as bands who regularly namecheck these scene legends, such as You Blew It! and A Great Big Pile Of Leaves, for more adventurous sounds than this, and put in their shoes, I know which I'd rather invest my hard-earned on. This record fails to falter, but is perfectly decent rather than anything more hyperbolic – as the final track's title aptly puts it, 'This Is Not A Revolution'.
3.5/5
'No Coast' by Braid is out now on Topshelf Records.
Braid links: Website|Facebook|Bandcamp|Twitter
Words by Ollie Connors (@olliexcore)