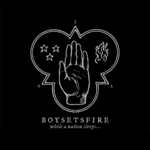 The reunion bubble has well and truly burst and the "comeback tour" horse has well and truly been flogged. What was once a novelty to enter the Rock TARDIS for a while and relive the music of your youth has now become utterly over-saturated; bands are picking up the guitars and relearnings songs written and released years ago to secure an extra few dollars to support their existence (after all, the paltry payoff you get from record sales doesn't stretch beyond a year or so) whilst an audience only too happy to live in the past lap up the opportunities to reminisce. BoySetsFire never hit the same stratosphere that some of their reuniting peers reached – the 4 albums they released across their previous 13-year lifespan sold modestly, and could easily be considered "also-rans" rather than venerated. The band returned to life in 2010 and now release their first album in 7 years, 'While A Nation Sleeps…'.
The title is an apt one, as for anyone suffering from insomnia, this is so stultifyingly average it could be just the thing to send you off for 40 winks. 
Boysetsfire
 didn't set the world on fire the first time around – their albums were reliable for a memorable tune like
'Rookie'
,
'Requiem'
or
'My Life In The Knife Trade'
; but they were never quite this dull. They're a "politically charged post-hardcore act", but most of their "statements" take the form of soundbite samples – the songs don't have very much at all to say for themselves, except for how middle-of-the-road and mediocre the 
BoySetsFire
 of 2013 are.
would challenge even the most dedicated of BoySetsFire fans to come away from listening to this record and remembering anything about it. I suppose there's the Gorgonzola-scented radio rock of 'Reason To Believe' or 'Never Said' that may particularly bring the bile to the back of the throat, or their misguided attempt to recapture the fire of their early heavy style on 'Until Nothing Remains', which sounds like Deftones covering Snapcase – that may sound like a compliment, but believe me, it isn't. Nathan Gray has a strange vocal, switching between a warbling croon and a strangled-sounding yell – this might be forgivable if the band behind him were performing exciting material, but unfortunately, the sum of all parts equates to listening displeasure.
There's an episode of Friends where Ross refuses to eat his Thanksgiving dinner until he can name all 50 states – starving and exasperated, he remembers 'Delaware' late at night and finally tucks into his turkey – if their fellow Americans can't remember their home state, then BoySetsFire stand no chance of having this turkey of a comeback album recalled. Whilst not completely devoid of merit ('Heads Will Roll' and 'Everything Went Black' break up the monotony), this is an eminently forgettable record, and raises the question "If this is all you can offer, why come back in the first place?". I do feel for BSF – while others can sell out massive venues and headline festivals going through the motions, they seem to be making an earnest go of it – however, much like their original incarnation, BoySetsFire's return won't set the world alight.
2/5
'While A Nation Sleeps…' by BoySetsFire is out 11th June on End Hits Records.
BoySetsFire links: Website|Facebook|Twitter
Words by Ollie Connors (@olliexcore)