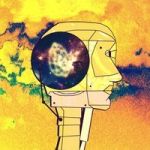 A personal maxim that always seems to hold true is that instrumental music is never quite as exciting on record as it is live, especially in the arena of math rock. With post-rock the lulls, peaks and crescendos draw you in, but in Body Hound's arena of riff-heavy twisting polyrhythmic dissonance, the recorded material is merely a taster of how much neckache one can anticipate after watching the band in question. Fortunately, 'Rhombus Now' more than whets one's appetite to catch the Steel City (Sheffield) quartet. Formed from the ashes of tech-metallers/general noisy bastards Antares and joined by two former members of Rolo Tomassi, Body Hound certainly deliver what their considerable reputations promise with a face-melting debut release; the band themselves describe their sound as being like "Yes (70s prog band – ask your Dad) playing Meshuggah songs" – quite possibly a self-deprecating description, but not a million miles away from what's on offer on 'Rhombus Now'.
Clocking in at just under 30 minutes for 6 tracks, it's a demanding listen, but as soon as the bass-heavy grooves of opener 'Vector Approaching' kick in, you quickly realise your patience will be rewarded plentifully. While 'Systems' and 'Void' are packed with the kind of dizzying and spectacular technical wizardry (and in the case of the latter track, a delightful spot of Mars Volta worship) that sets this release apart from the masses of bands ploughing a similar furrow, it's on 'Momentum' where Body Hound really start to pick up, er, momentum. It's perfectly paced throughout, with Ryan Bright's drumming providing an anchor for the three guitarists to not only show off their instrumental ability, but to prove their songwriting ability is as tight as a gnat's sphincter.
The latter half of the record continues in fine fettle with 'Perseus Arm', with Joe Thorpe's ominous bass rumbles becoming the star of the show on this track. The eponymous song of this EP is its parting shot where everything the band have shown us thus far comes to a head in a dazzling display – the kind of track that will leave anyone watching the band live with the bottom half of their jaw somewhere near the ground. Given their collective experience in previous acts, you'd expect 'Rhombus Now' to be an accomplished release, but the manner in which Body Hound present a measured and well-weighted version of their tempestuous chaos may just blow your socks off. While their live show may not be for the faint of heart, if you're into having your mind turned to mush and waking up with a serious case of "bangover", the experience cannot be recommended any more highly.
4.5/5
'Rhombus Now' by Body Hound is out now on Brain Wave.
Body Hound links: Facebook|Bandcamp
Words by Ollie Connors (@olliexcore)