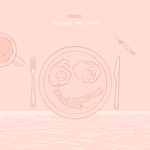 Unless your band name happens to be The Xcerts, I would strongly suggest avoiding comparisons to Brand New in your pitch-paragraph. This oddly frequent, and yet most ill-advised, move is the closest to guaranteed disappointment as you're likely going to get. That doesn't mean that the comparison isn't often apt; said band have indeed undeniably had a lasting influence on the emo-scene (annoyingly so, some would add), but it's a comparison that ultimately does more harm than good. Thankfully Bloom's 'Thousand Yard Stare' swiftly eschews any fear of the copycat syndrome and, in a rather unexpected twist, might best be described as the more chilled-out version American cousin of partially Scottish favourites The Xcerts.
'2 AM Breakfast' makes for an intriguing opening. The sounds of what vaguely identifies like the scuffle and background noise of a cafeteria is overlaid with the synthesized, reverberated and overdubbed of Luke Granered's voice. A poem of sorts with pretty electronic harmonies, it's a enticing way to lure the listener in. That, is essentially as good as it gets here. Of course, that's a little disingenuous on my part. Immediate follow-up 'Blue Valentine' is, for long stretches, a banal arpeggiated slow-tempo ballad, but also a tale of two halves. Harmonies get stretched into something altogether more exciting and a unfussy fuzzy guitar solo brings the track to a satisfying close. 'Yet' displays all the songwriting skill of an experienced emo-musician, but the execution disappointingly lacks panache where it feels like it should.
In fact, that criticism could reasonably be leveled throughout the album. There's plenty of evidence that Granered is a talented songwriter, evidently at ease with the conventions of the genre he's operating within. Just take a look at 'Losers'. The execution, on the other hand, is irritatingly one-note time and time again. There's a genuine tension between the obvious good songs begging to be fleshed-out and the persistent dashing of that promise. Hand Granered someone half-decent for arrangements, and we'd likely be looking at an altogether different beast. However, nobody need give up on this solo project just yet, it's just a question of "can the music rise up to the quality on the page". I certainly hope it does.
2.5/5
'Thousand Yard Stare' by Bloom is out now on Broken Circles.
Bloom links: Facebook
Words by James Berclaz-Lewis (@bearclawlewis)