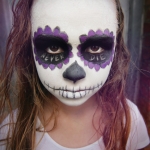 British rockers Blitz Kids make a return with mini-album 'Never Die,' an offering for fans whilst they wait in anticipation for a second full length release. Having already rocketed onto the scene supporting names such as D.R.U.G.S and Mayday Parade, the four-piece have a credible reputation and are ready to prove that British rock is alive and kicking.
'You're Dead To Me' opens the record, with Blitz Kids playing their cards right from the beginning with an overly infectious hook, pulling me straight in with the hope that the rest of 'Never Die' will continue as it started. Joey James' very British sounding and diverse vocal range particularly shines in the chorus, hitting a strong note at the end of the track. Also ending is that same initial hook, finally drawing 'You're Dead To Me' to a close with a short but sweet heavier breakdown riff.
Yet another golden track on 'Never Die' is 'Warrior' which has a powerful and confident shout-a-long chorus; "Light the fire in my eyes, I will rise I will rise, I am a Warrior Warrior…" Continuing with mid-paced yet energetic melodies, the track features a guitar solo of the chorus that soon breaks back into the shout-a-long vocals, making 'Never Die' a very strong record only two tracks in.
'Memento Vivere' which translates into "Remember to live," slows the mini- album down significantly but that British rock feel remains. The track seems somewhat emotive with disheartening verses in comparison to the likes of the more optimistic 'Warrior,' with the lyric "I was used and abused for the whole of my youth." The choruses are influential and switch to Blitz Kids trademark sound, with infectious rhythms and group backing vocals producing a solid chorus.
Blitz Kids have certainly teased fans with this mini-album, producing six strong tracks to make 'Never Die' a very powerful release. The wait begins for their second full-length but for now it's safe to say that the four-piece will continue to rocket and are giving British rock the name that it deserves.
3.5/5
'Never Die' by Blitz Kids is released on 26th November via Hassle Records.
Blitz Kids links: Official Website|Facebook|Twitter
Words by Hannah Gillicker (@HannahGillicker)