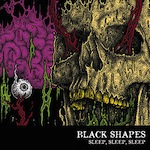 If there is one word that can succinctly summarise 'Sleep, Sleep, Sleep', the debut album from Black Shapes, it would be "ambitious". Their first EP 'In The Mourning Light' was a terse, laconic statement of a record, full of short, sharp jabs in the vein of bands like Trash Talk. However, the London quartet have taken a far different tack on this full-length, which sees them trade explosive speed for something far more ominous and brooding. With production left in the capable hands of Steve Sears (who produced Gallows' most recent effort), Black Shapes have here been given the freedom to create a record that matches the sonic aspirations they have set themselves. A few listens are required before this album really clicks, but once it does, the rewards are ample.
Right from the off with 'Treason, Heresy and Witchcraft', this album sets out its stall to master the art of unapologetic pulverisation. Put simply, this album sounds gargantuan, with Gareth Evans and Jonathan Goldthorpe's guitars creating a cacophonous din whilst Richard Wooding's drums thump underneath. There are still nods to their old style, such as when 'This Requiem' ignites into a convulsive energy, but 'Sleep, Sleep, Sleep' posits Black Shapes as a different beast altogether, with a titanic sound. 'Sin Of Sinners' carries the album on in fine form, its pulsating conclusion sure to elasticate more than a few necks in the live arena.
An elongated respite comes in the form of bluesy interlude 'Sleep With The Gods', but it feels necessary to prepare us for the punishing onslaught of 'Nerissa' and this album's centrepiece 'The Echoing Grief' – indicative of the aforementioned ambition mentioned earlier, not many bands would have the gumption to attempt a 6+ minute miniature-epic on their debut, but Black Shapes do so and the end result is quite incredible to behold. If the inner beast of this band has been unleashed hitherto in this record, then this song is an uninhibited monster, the aural equivalent of the Cloverfield monster destroying New York City. After two such prolific, albeit singularly-paced songs,'Midnight Brides' is in danger of giving us too much of a good thing, but manages to keep things interesting with Evans' self-exploratory lyrics discussing insomnia and a tumultuous ending.
Following on from the monoliths that have proceeded, it's quite the relief to have 'Age Of Porcine' explode into life, a cataclysmic release of the pent up tension that has been amassing throughout. Whereas penultimate track 'Legend Of Web' strays a little too far into predictable territory (despite an emphatic ending that connotes a cathartic end to their live show), it's left to 'Our Temptress The Sea' to play us out, and closes the curtain in incendiary style. All the elements that have made this album such a savage creature intertwine, and Evans' closing howls are those of a man who's lain bare his soul on this album. This band may have only been together for just over two years, but the gigantic creative leap they've taken on this album has paid off massively. Not only is this one of the most exciting debut albums made by a UK hardcore band these ears have heard in a long time, but it shows what astonishing potential these men have – if they sound this good on their first album, just imagine what's still to come once their craft has been honed further. In what has been a pretty fantastic year for UK hardcore so far, Black Shapes may have just topped everyone.
4.5/5
'Sleep, Sleep, Sleep' by Black Shapes is out on 14th October on In At The Deep End Records.
Black Shapes links: Facebook|Twitter|Bandcamp
Words by Ollie Connors (@olliexcore)