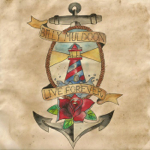 Billy Muldoon is a talented young singer and songwriter from North London. 'Live Forever' is a soulful heart filled acoustic album, with beautiful lyrics and ambient guitar riffs.  Billy has promised the four tracks are the most intimate pieces of music he has ever written so far, and from listening to them you know he put everything he has into them. Every track is a masterpiece over-flowing with real emotion and passion.
The record opens with 'Young Claws', an outstanding stunning song with poetic guitar work. Billy produces soft mesmerising vocals that softly pull on your heart strings. The track is a wonderful introduction and is absolutely breathtaking. This follows with the powerful tune of 'Howling Demons'. The song stars strong hard-hitting acoustic riffs with a more country-rock style and sound. Next is the title track 'Live Forever', which is an emotional melodic piece with catchy lyrics such as "Cause I don't want to die, I just want to live forever".  The EP finishes on 'Walk Proud' which is a more light-hearted track. It features upbeat elegiac guitar riffs and a wonderful sweet melody.
<a href="http://billymuldoon.bandcamp.com/album/live-forever" data-mce-href="http://billymuldoon.bandcamp.com/album/live-forever">Live Forever by Billy Muldoon</a>
The entire record is a masterpiece with real flare and individuality. Every track is simply beautiful, with outstanding touching vocals, wonderfully catchy melodies and soothing guitar riffs. Billy Muldoon has produced an amazing diverse acoustic EP that showcases his true musical talent. If you're a fan of the acoustic genre, this is definitely a record for you.    
5/5
'Live Forever' by Billy Muldoon is out now.
Billy Muldoon links: Facebook|Bandcamp
Words by Chantelle Kelly (@ChantelleKelly3)