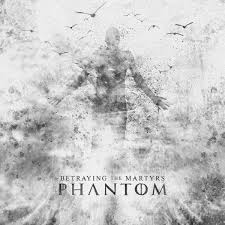 Since the release of 2011's debut album 'Breathe In Life', Parisian metallers Betraying the Martyrs have seemingly been THE name to contend with in the deathcore arena. Continually spoken of in a fevered high that seats them way above many of their peers, they're back with album number two on Sumerian Records. For a label that boasts some decidedly better acts like Dillinger and Crosses, this band are a total let down.
The majority of sophomore LP 'Phantom' feels like 13 tracks of metal by numbers, underscored by the horribly predictable production values which in the age of laptop-metal have lumped the vast majority of new bloods into one giant dizzying game of Guess Who. Is that BMTH? Is that Silent Screams? Is that While She Sleeps? Who knows. Who bloody knows!
Aside from the very occasional flourish here and there, it's a blur of forgettable djenty licks, kick-happy death metal and impossibly floaty, faux-transcendant choruses that once again beg the question of "who am I listening to again?". Then there's instrumental tracks like 'L'Abysse Des Anges' and 'Afterlife' which are nothing but pointless filler. The latter for example, 2 minutes of gothic choirs and synthy strings that sound like Danny Elfman's frying-panned himself into near-submission then decided to score a production of Edward-Scissorhands-On-Ice. Just pure cockwash.
And let's talk about that disastrously misguided re-imagining of pre-teeny big hitter 'Let It Go' for a minute. It's quite simply one of the biggest musical disasters of 2014. Something that never should have been more than a bad in-joke that has somehow come to fruition and made it onto an already characterless second album. Stick a fork in me, I'm done.
1/5
'Phantom' by Betraying the Martyrs is out now on Sumerian Records.
Betraying the Martyrs links: Facebook|Twitter|Tumblr
Words by Joe Danher