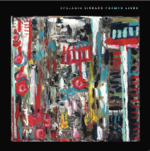 Anybody attempting to claim that Benjamin Gibbard hasn't been a deservedly major player in contemporary indie music is a liar, plain and simple. Whether you're a Death Cab For Cutie fan, a lover of his incredible side-project The Postal Service, or don't really care for either, chances are at some point you've hummed along to a song that originated in this man's brain. Now, with 'Former Lives', he's performing as Benjamin Gibbard, the man himself and for someone who has experienced such acclaim as a member of other bands for fifteen years it must be daunting to say "this is me, I hope you like it".
Gibbard claims, "These songs span eight years, three relationships, living in two different places, drinking then not drinking. They're a side story, not a new chapter." So it's not a new man and a new start – this is a more personal side of a musician you thought you knew; this could bring the whole charade crashing down to earth. Fortunately this is not the case, 'Former Lives' is every bit as good, as heartfelt, and as worth your time as any Death Cab For Cutie album. It doesn't have the sombre originality of The Postal Service's 'Give Up' but it showcases the same ear for a great song. With 'Former Lives' Benjamin Gibbard has again proved why he is such a deserved mainstay of modern music.
With 'Shepherd's Bush Lullaby' Gibbard begins his debut offering as a solo artist in captivating fashion – an a cappella song beautifully constructed with excellent lyrics and perfect backing vocals.'Teardrop Windows' is beautiful, with shades of Nightmare Of You throughout – a soundtrack ready for cheery frosty days arriving just in time. The entire album has a similar happy melancholy to it, something Gibbard has perfected over the course of his illustrious career.
Following on from 'Teardrop Windows' comes song after song of desperate beauty. 'Bigger Than Love' comes equipped with a fantastic riff that accompanies Gibbard's customarily excellent vocals into a slow building final chorus that gives a true sense of the 'eight years' these stories span. Because that's what this album is, it's stories from a man's life told wonderfully. The stories most people would have, not just the megastar singer of one a generation's favourite bands. Gibbard is just fortunate enough to be able to put these stories into songs relatable to those without the power to tell them so eloquently.
'Duncan, Where Have You Gone?' is a wonderful track, bass driven atop strong drums the harmonized vocals fold back to make way for some beautiful guitar playing before re-emerging to carry the track out to the end. 'Oh, Woe' allows the strong bass to continue and is something with a rockier feel, so far from heavy but showing Gibbard's ability to change things up when he wants to without losing any quality. 'A Hard One To Know' is perhaps 'Former Lives' strongest song, reminiscent of The Smiths had Morrissey had one happy day somewhere in the middle of recording 'Strangeways, Here We Come'.
Closing track 'I'm Building A Fire' finishes out the album with one last demonstration of Gibbard's brilliant and instantly recognizable voice. It would be forgivable to think that any song from this album was a Death Cab For Cutie song if it came on the radio. A stripped down Death Cab is something not many would scoff at and this is pretty close without colliding. Different enough to be interesting and similar enough to feel immediately familiar – this, like all of Gibbard's projects, is perfect listening for almost any situation.
4.5/5
'Former Lives' by Benjamin Gibbard is out now on City Slang.
Benjamin Gibbard links: Website|Facebook|Twitter
Words by Tom Knott (@nounandthenouns)