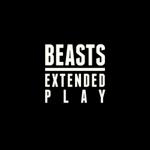 I don't know about you lot out there, but I've certainly been enjoying the recent unseasonably hot weather – I mean, what's that giant yellow ball in the sky? Doesn't it know the British summer is supposed to be cold, wet and dreary? Fortunately, Beasts' self-titled debut EP is a much-needed reminder of the gloomier parts of life, like Eeyore at a rave. Blending the downtuned grunge of Nirvana with the dense and textured noise of My Bloody Valentine, adding in elements of Black Rebel Motorcycle Club and Interpol, the South-West Londoners have really tapped into the summer spirit on this four-tracker.
Poor timing aside, this is a decent release. Produced by themselves, they know better than anyone how to exact the best of Beasts, and 'Everybody Knows' kicks things off with a scuzzy groove that allows Joe Mallory-Skinner's soulful and doleful vocal to take centre stage. However, the real pinnacle of the record comes a little later on in the form of 'Sub Rosa', a colossal indie anthem that deserves to propel the trio beyond any of 2013's limpid NME-backed Great White Hopes – its insistent, coruscating melodies are an absolute triumph throughout, and the closing section is simply breathtaking.
Unfortunately, not all of the material present is of the quality of 'Sub Rosa' – EP finale 'Drowning In Puddles', though starting strong and immersing the listener in a maelstrom of feedback-drenched guitars, this track, which falls just shy of 6 minutes, meanders towards a disappointing fade-out exit. The Twickenham boys have tapped an interesting vein here – producing some fantastic results, but still predominantly finding their feet on this introductory release. 'Sub Rosa' is unquestionably of absolutely must-hear status, but overall, Beasts' eponymous effort should be filed as "promising".
3.5/5
'Beasts' by Beasts is released on the 12th August on Avatone Records.
Beasts links: Website|Facebook|Twitter
Words by Ollie Connors (@olliexcore)