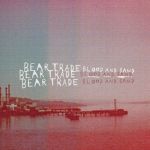 I'm a huge fan of bands employing their natural regional accent/dialect in their singing voice – far too many bands use the "Transatlantic Drawl", a faux-'Merican genericism that couldn't place you in Detroit or Droitwich. However, punk rockers Bear Trade display their Sunderland accents with pride on their debut full-length 'Blood And Sand', much to their credit – without their quintessential Britishness, this may have been yet another melodic punk record indebted to Stateside luminaries such as The Replacements and Iron Chic, but with the charm added by the gritty, gutsy vocals, it gives the Mackems an excellent USP to separate them from an ever-increasing pool of soundalike "gruff" punk bands.
Opener 'Bleedin' Heart Trouble' is a rollicking ride representing all that Bear Trade are about – fast, chunky riffs, huge hooks (with plenty of the "woah-oh"s indicative of this genre) and a triumphant lyrical air-punch of "Don't be daft". The kind of lyrical openness and honesty shown on the curtain-raiser is continued into 'If Stoic Was Normal', revealing a battered but beating heart and a vibrant soul underneath their fairly quotidian punk rock. The driving 'Dolly Mixtures' completes an excellent opening trio, a short 2-minute romp that's sure to incite a circle pit or two with a crowd that's had an appropriate amount of, erm, "social lubrication".
Even though this album demands little more than half an hour of your attention, there are moments where it starts to sag a little – 'Anathema' is an occasion where the title can aptly describe the listener's emotional response rather than the content of the song itself – a rather unfortunate irony. However, 'Charge' brings the standard back to the heady heights of 'Blood And Sand''s initiative offerings, and in 'Nice Boots' and 'Postcards', delivers the records zenith couplet – the former an energetic number cherry-picked for summer drinking, with a delightful d-beat-esque middle eight, and the latter a comparatively understated number with an irresistible sing-along.
Towards the end of the record, proceedings become a little too meat-and-potatoes to be truly remarkable, though the chiming (yet mordantly humoured) 'Don't Forget You're Going To Die' does make a valiant salvo to retain interest. Bear Trade have proved here to be worthy of the buzz surrounding them in certain circles (they are one of the lucky few British bands playing the prestigious FEST in Florida), and while their music is solid rather than spectacular, their accents will ensnare more than a few people who yearn for the glory days of legendary Sun'lun' punk band Leatherface. If this band are playing a festival near you this summer, with a few beers and some mates in tow, you couldn't possibly ask for better.
3.5/5
'Blood and Sand' by Bear Trade is out now on Everything Sucks Music.
Bear Trade links: Website|Facebook|Twitter
Words by Ollie Connors (@olliexcore)