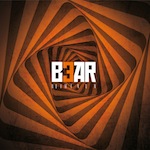 Since their inception in 2010, Antwerp-based self proclaimed "metalcore mentalists" BEAR have encountered a few twists and turns. From the release of their debut EP, 'Abstractions' to touring with While She Sleeps to headlining local festivals in their native Belgium to eventually releasing their debut album a year ago. They will be hoping that 'Noumenon' builds on the progress that they've made in the past three years, but I don't personally seeing it getting much recognition from anyone other than people who are already fans of the band, or die-hard fans of the math metal genre.
I'll start off with a little disclaimer: metal isn't a passion of mine. I mean, I enjoy the universally loved big guns but when it comes to newer metal bands – and any of the never ending list of metal sub-genre's for that matter – they really have to have something special for me to enjoy their music. Personally I just find most of the culture surrounding it and the music itself extremely cringe-worthy and unfortunately, for the most part at least, BEAR seem to be no exception. I must admit though, at first my interest was actually sparked when I was given this album to review due to more established bands like Converge and The Dillinger Escape Plan being among the list of sound-a-likes on the press release. That spark was soon put out after around 50 seconds into the opener 'Boxer'. The epic sounding intro of the track is cut short by a chaotic explosion of technical guitar work and the snare drum being pounded endlessly. The press release asks the question "ever wondered what it's like to get smashed by a ten ton hammer?" and I after 60 seconds of listening to this record I can see why.
The next 6 or 7 tracks move fairly swiftly, blending smoothly together. So smoothly, in fact, you would be forgiven for thinking that 2 songs have gone by when in reality 5 have. Due to the technical nature, some of the songs feature rather oddly placed pauses throughout, 'Rain' being the main example, so mix that with the fact that most of the songs sounds exactly the same (if not extremely similar) and it can feel like even the gaps in between each song ending and starting could well just be another oddly placed gap in the middle of one of their songs. It just all blends in to one for me. Once we reach track nine, however, I was hit with a rather pleasant surprise. 'L.A. Boxer' executes a more familiar take on metal for me, albeit a more technically infused variant, and if I'm honest I quite liked it. Unlike the others, it wasn't so hard hitting that it takes away from the song as a whole, it was slightly slower than some of the other tracks on the record and most of all the vocals were more to my taste. It actually sounds very Slipknot-esque, which should obviously be a plus in anyone's book, and I really wish I'd been listening to a whole album that sounds like this rather than the more chaotic and structure-less tracks I had been listening to for the previous 30 minutes.
Having said all that, this album is exactly what it claims to be. When you read the press release you're told that the aim of the band is to "mix extreme chaos with dazzling technical flair whilst incorporating an extreme edge". While I'm not sure where the 'extreme edge' lies, or what that even really means, the first part of that sentence is most definitely what BEAR deliver. It just so happens that I, personally, see no attraction in that what so ever. The need to be chaotic and technical for the sake of it leaves the music feeling ultimately empty and meaningless to me. There is, however, an audience for that kind of music and I feel like that audience will welcome this album with open arms.
In conclusion, if you like your music heavy, technical and chaotic as hell then this is for you. Otherwise, I can't see it changing your mind. Taking it for what it is, I don't think this is a bad album by any means. I think existing fans of the band and fans of the genre who haven't yet delved into the world of BEAR will enjoy the mind blowing technicality and extremely chaotic heaviness that is demonstrated throughout the 10 songs.
3.5/5
'Noumenon' by BEAR is released on October 7th on Basick Records
Words by Joe Hart (@nottheJoeHart)