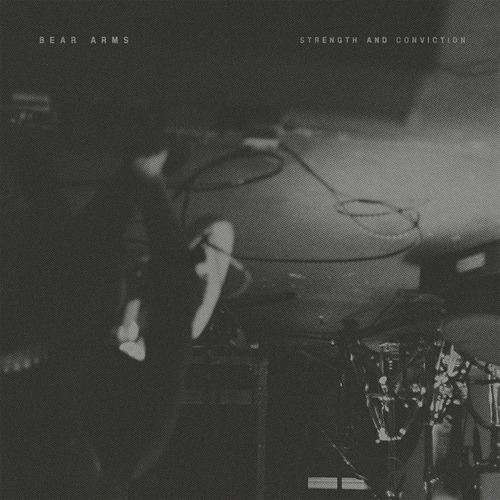 If I had to choose one part of the United Kingdom that has a proven track record of producing fantastic releases in 2014, it would have to be Scotland. With the likes of Fatherson, So Many Animal Calls, and Algernon Doll being just some of the superb bands to emerge from North of the border, you can now add Bear Arms to that growing list.
Their debut album, 'Strength and Conviction' captures a band at an exciting stage of their career. It has that youthful exuberance that many bands have with their debut release, but it has it's fair share of maturity in equal amounts. Over the course of ten songs, you become overwhelmed by the quality of songs Bear Arms have produced.
Opening with the raw, sharpness of 'Courage', the Glaswegian quartet quickly go about establishing their well-paced use of the quiet/loud dynamic. With stringent guitars complimenting the bands more melodic side, it gives way to a ferocious section dominated by aggressive vocals. Like the album itself, 'Courage' displays the right balance between melodic and aggression.
'Double Crown' and 'Fools Gold' drive home the bands near-catchy side with thriving musicianship and intriguing song structure. Whilst 'Crutches' slows the pace down with twisting, ringing guitars that is bound to be compared to US like Brand New and Balance & Composure. As the tempo drifts along you become captivated by the track and drawn into every left word. So much so you're rewarded with a radiant finale that is simply warming.
I'll admit the use of the quiet/loud dynamic slightly wear thin but with explosive moments such as the the second part of 'Empty Vessel' and 'Bird in a Cage', you soon forgive the quartet as they're both delivered in a blistering, tight fashion.
The atmospheric 'A Call to Arms' allows the band to take a breather with its slow buildup eventually giving way to passionate harmonies, making it one of the many standout tracks on here.
Overall Bear Arms have produced an album that has just what its title states; strength and conviction. Over the course of 42 minutes, the quartet make a huge statement of intent with a well-balanced mix of fiery passion and dynamic affection. It is a record that demands repeated listens as its simply a compelling album that is wrapped up emotion and memorable hooks.
4.5/5
'Strength and Conviction' by Bear Arms is out now on Struggletown Records.
Bear Arms links: Facebook|Twitter|YouTube|Bandcamp
Words by Sean Reid (@SeanReid86)