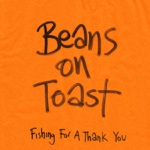 Beans On Toast, or as he's known to his mum, Jay McAllister, from Braintree in Essex, is a self-confessed "drunk folk artist". Active since 2005, he's quickly made friends in high places, playing Glastonbury Festival every year since 2007 and being namechecked in "popular folk troubadour" Frank Turner's 'I Knew Prufrock Before He Got Famous' ("Jay is our St George, and he's standing on a wooden chair and he sings songs and he slays dragons, and he's losing all his hair"). This is BOT's fourth studio album, all of which have been released on an annual basis on or around his birthday, December 1st. Beans On Toast, as with the student staple he is named after, has always been a simple proposition: just a bloke and a guitar, shouting his hoarse observations on every day life. However, like that much-maligned crown prince of the observational, Michael MacIntyre, the observations on hand are trite and somewhat blunt, unlike the sharp social commentary he believes himself to be giving.
Take'Angry Birds' for example, which makes the connection that we are all addicted to the games on our smartphones and that "birds" is a metaphor for women, so our phones must be annoying women – COR. You just can't get that sort of incisive attention to detail down your local open mic night – oh wait, you probably can. Talking about your local, Jay also complains of the homogenisation of violent Wetherspoons culture throughout middle England on 'Beer and Burger' – that's definitely not something your mate Frank already did in the last 5 minutes, is it Jay? Beans On Toast probably imagines himself this wry purveyor of wit, particularly on 'Protest Song', a sarcastic diatribe against Guardian-reading, placard-waving trustafarians but his targets are well covered ground elsewhere – go for someone else, eh Jay?
In addition to homophonous jibes at the social arena, this also falls into the honey trap of folk artists – the descent into saccharine schmaltz. In fact, the record begins on such a note with'Microwave Popcorn', an ode to the simple pleasure and warm cosiness of "movie night". Awww, how lovely. Now pass the sick bucket.'Papa Jay' starts with guest vocals from his son (possibly the folk artist's more sickening take on parents replacing their Facebook profile photo with one of their progeny) and as the song progresses into a bouncy polka helmed by proclamations of the song title, it's like he's throwing himself a carnival for performing the most basic of human functions, i.e. procreating. Possibly the most simpering of the lot is penultimate 'Life', which positions itself as a triumphant "life is for living, seize the moment" anthem, but the monotonous whiskey-and-cigarette soaked vocals have truly worn down every last nerve by this point.
This album will be immensely popular among mid-20's pseudo-socialists. Mind you any album with the take of"We're all a little older and a bit jaded, and the system's still fucked, but here's some jangly chords to make us all feel better" seems to be, ensuring the continued success of Turner, The King Blues et al. It all feels a bit sterile and toothless, the "biting" commentary feels confused and aimless, when the real enemy should be those that let Beans On Toast progress from a joke act, a drunken shambolic busker, to headlining the Scala and playing to over 10,000 people at Wembley Arena.
1.5/5
'Fishing For A Thank You' byBeans On Toast is out now onXtra Mile.
Beans On Toast links: Website|Facebook|Twitter
Words by Ollie Connors (@olliexcore)