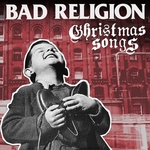 I can honestly admit that I did not see this day coming. I am officially two lines into a review of an album of Christmas covers by American punk rock legends Bad Religion. It really shouldn't come as this much of a surprise, the band have proven time and time again their expertise in the art of irony. Where that of Dead Kennedys was perhaps on the more provocative side, Bad Religion essentially built a career on using irony and experimenting in its delivery (think of the simple elegance of '21st Century Digital Boy'). There exists a considerable gap, however, between writing individual songs as ironic character studies to criticize its content and simply recording a set of popular Christmas covers with little evidence of any tongue-in-cheek whatsoever. Not that there's anything inherently wrong with turning a couple of jolly winter tracks into jolly punk-rock winter tracks. It just seems too incoherent a joke for Bad Religion to indulge in.
Still, it is more than likely that the band appreciate full well that this particularly tired genre of music is unlikely to be suddenly revitalised by their particular brand of adaptation. Maybe, just maybe, that is the very point the band are making: that there is no point to their enterprise. A silly joke suddenly becomes a confusing exercise in nihilism. Then again maybe I'm just trying to legitimate the confusing actions of one of my favourite punk bands. The reality is that, straight-forward or not, the album is 20 minutes of quintessentially Bad Religion instrumentals with Gurewitz providing an unlikely voice for these merry holiday tunes.
The track selection, on the other hand, is rather less complicated. All that pagan faff is dismissed, leaving space only for those Christmas songs that honour the Holy Trinity and their involvement in that most fateful of days (allowing them to sneak in an alternative mix of 'American Jesus'). All your favourite pious hymns get squeezed to fit the 2 minute format, but you could hardly criticize them for going at it half-heartedly. Indeed, the band bring their A-game ('arguably their only game' said the fanboy) and deliver them with panache, fun and that lovely spacious brand of punk they're so good at. You'd be forgiven to give the album a miss, but the Bad Religion hoarder will be amply satisfied (as well as bemused).
3.5/5
'Christmas Songs' by Bad Religion is out now on Epitaph Records
Bad Religion links: Twitter Facebook Official Website
Words by James Berclaz-Lewis (@swissbearclaw)