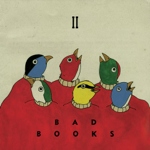 Side projects are often just that. A bit on the side, a less complete, well-rounded version of an artist's output, arranged in their spare time and often less successful or enjoyable as their full-time band. Bad Books break the mould however. Comprised of Kevin Devine and Manchester Orchestra's Andy Hull, 'II' is, unsurprisingly, their second album, and one that continues where the first left off, providing a collision point for two unique talents.
Hull describes the project as a "therapeutic outlet" and with songs as beautiful and heartfelt as opener 'The After Party' it's not hard to see why. Delicate guitar melodies breeze through a track with an introspective, Death Cab For Cutie vibe that explodes into a grungy love-in at its climax. Following this is 'No Rewards', a swooning delight with a psychedelic tinge that reminds the listener of Fun.
The album fluctuates between grungy and more introspective tracks and catchy, upbeat pop ditties with the whistle-along 'Forest Whitaker', with its simple bass-led, low-fi sound giving way to the more delicate 'Never Stops'.
The album is at heart about an emotional release and a chance to stretch creative muscles otherwise confined by their day jobs and Bad Books have clearly satisfied their creative itch here. 'Friendly Advice' is the song that sounds most like Kevin Devine's trademark delicate grunge sound that is so familiar to listeners of his solo albums, but Andy Hull still manages to add another layer to this sound.
The latter part of the album quietens down with the breathy, vocal '42' and the acoustic 'Lost Creek', a real album highlight. It builds softly to a truly beautiful conclusion, with earnest and pain-filled lyrics. Closing the album is 'Ambivalent Peaks', a title which sums up the album quite nicely. This is another fragile, acoustic number and this seems to very much be an album of two halves; I'm not sure whether this was done intentionally to reflect the two individuals at the centre of the record but it certainly has a stunning effect. The first half is more upbeat; the full-band grunge rock tracks described above fade away as the second half verges into a folk album in places.  This is not a criticism of the album as I think it works well and as a side project shows some experimentation and deviation which is always refreshing.
Bad Books are everything a side project should be; gorgeous, well-crafted songs that do not betray either artist's vision or integrity. This album is not in any way an afterthought and the musicianship put into it should be applauded. This is an album of the highest quality and well worth searching out now before it fades into the background of forgotten side projects forever.
4/5
'II' by Bad Books is out now on Triple Crown Records/Favorite Gentlemen Recordings.
Bad Books links: Website|Facebook|Twitter
Words by Tom 'The Machine' White (@whiteywitters)