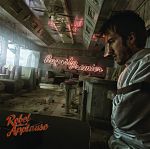 Quite often in recent years, pop punk bands can take on a slick veneer and feel like a manifestation of a scene based on internet cool points – it can be quite off-putting for listeners that aren't part of that scene, such as myself. It's quite encouraging, then, to hear music in the genre that loses the ultra quotable, gif-worthy lyrics and tired pop culture references. Music of that style feels more honest and lends itself to better, more relatable songwriting. While not a new band, August Premier fit this bill exactly and listening to 'Rebel Without Applause' feels like a refreshing look back.
The Chicago 4 piece's 2014 EP covers a breadth of the pop punk range, from upbeat to sombre and plenty more, but does so for the most part with a tendency to err on the more indie-rock side of the genre. This makes a nice change from the rapid tempos and over-saturated distortion and that we hear so often from newer bands. As a perfect example, opener 'In Hell (Can't Spell Friend Without Fiend)' carries catchy hooks with strong, upbeat riffs and melodies as well as a very light hearted rock'n'roll style guitar solo that all comes together with a kind of youthful vigour – even if the name uses the frustratingly unimaginative friend/fiend play on words.
If you aren't familiar with this band, you could quite easily mistake this EP as a debut effort from a group of kids, which is a very good thing. Rather than sounding jaded, August Premier have managed to avoid the feeling of cynicism that comes with bands that have tasted success. This is almost certainly because of the better part of a decade that the band spent apart, leading to a new band with a much better frame of mind – as they put it themselves, "the joy should be discovered in the journey to get to the summit".
The EP also has a less poppy side, found particularly in 'Exit Strategy' and 'See You at the Bottom'. The former of the two has a slower, rougher edge to it, with the palm muting and dissonant chords feeling a little like Gnarwolves in their slower moments, where as the latter is the perhaps obligatory acoustic final track, but it fulfils its purpose and doesn't feel too contrived as a 'meaningful' final track. On top of all of that, the EP's slightly fuzzy and unpolished production, without sounding at all sloppy, keeps the feeling a little bit more towards the punk side of pop-punk.
All in all, this was a very enjoyable listen. August Premier have clearly come back with their craft in mind and the goal to enjoy the journey more than the destination, and it comes across perfectly in the music. The result is a set of songs that feel real, which I think anyone can respect regardless of their enjoyment. Personally, this release gets an abundance of both from me.
4/5
'Rebel Without Applause' by August Premier is released on 18th February on Pacific Ridge Records.
August Premier links: Website|Facebook|Twitter

Words by Ben Kosma (@BenKosma)