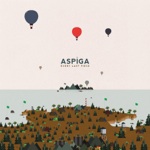 Five stars. Buy it now. See you next week.
If I thought I could get away with it I would say no more about Aspiga's startling 'Every Last Piece'. I have barely listened to anything else for two days and I doubt I'll be listening to too much else for at least a few more.
Opening track 'Save Your Spit' sets the scene; it's gruff, powerful, and wastes no time in letting the listener understand that they're in for an auditory treat. The song brings the record immediately to life, pounding drums acquainting what is essentially an intro track. It's a minute and a half that draws your interest but doesn't reveal the full extent of what the next six songs will provide.
'Save Your Spit' moves seamlessly into the driving 'Welcome to the Sympathy Party', a track defined by a swelling chorus emphasized by excellent dual vocals that you'll be singing along to before it slips back into another great verse. Aspiga wear their massive range of influences on their sleeves here, in parts it could be Jawbreaker and in others it might be Sunny Day Real Estate. There is no clash of styles though, just interesting music from talented musicians.
Guitarist/Vocalist Kevin Day has claimed that following a break-up and the release of previous record 'Tense' he found himself wanting to throw himself into music. "I think it was the best decision I've made in the last few years", he says. I'm already inclined to agree.
If third track 'Winter Cleaning' were the odd song out on an album of Spice Girl's covers, it alone might have earned 'Every Last Piece' the full five stars from me. Had this song arrived early enough it almost certainly would have been the soundtrack to my summer. Now, as it turns out, all of my friends are getting mix CDs for Christmas just so that I can give them this song. It's different than the previous two tracks in that the vocals are much more raw. If Jason Shevchuk of Kid Dynamite fame had joined a moody Bouncing Souls, they might have written this song some time around 'The Gold Record.'
Next song 'Users' continues in the same vein and is another stand out track. Bringing together slower verses and mega emotion drenched choruses. If you've got that oh-my-god-how-do-they-know-my-life-so-well feeling by this point then the second half of 'Parade On Me' will see your demise. As you'd expect from any great punk rock record the 'woahs' have arrived but they're not just something to sit under the lead vocals, they're well thought out and definitely add to the album.
Penultimate track 'On The Defensive' is, you guessed it, another monster. Here is where Aspiga have hidden the nicest bit of guitar playing on the album. It's nothing intricate and there are no mighty triple-harmonised guitar solos but the melody that drives the song along begs for attention and deserves it.
In closing matters with 'The Excavation' Aspiga have proven that 'Every Last Piece' has been no fluke. They could be forgiven one terrible song and still be laughing but that just isn't the case – the seventh and final track is as excellent as the rest. A brilliant, building, driving breakdown erupts one last time into an album-topping crescendo and ensures that at 5:11 the longest track on 'Every Last Piece' does not feel like time wasted.
With 'Every Last Piece' Aspiga have put out one of the punk records of the year. This is the kind of album that makes you want to sing along and move around – I'm half upset with Already Heard that reviewing this record has kept my hands busy for so long today. I want to be in the street, shaking people by the shoulders and babbling incoherently about this record – the world will have to make do with this internet based alternative. Do yourself a favour and check Aspiga out.
5/5
'Every Last Piece' by Aspiga is out now on Paper + Plastick.
Aspiga links: Website|Facebook
Words by Tom Knott (@nounandthenouns)