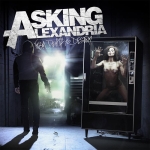 One band who I have never really had an opinion on and who has completely stayed off my music radar is Asking Alexandria, and I can honestly say I don't know why. Hailed as one of the UK's best and heaviest metalcore bands, I was interested to hear this album. As I don't know anything of their past albums, I review this album with open ears and no expectations.
Opening with 'Don't Pray For Me' which has a industrial electro introduction, as the guitar riffs comes in with guttural screams the drums speed up and the songs are soon enough in full flow. As some melodic vocals come out and the big breakdown mixed with some orchestral sounds, it's an impressive song. As some almost R+B style vocals start off 'Killing Me' the riffs come in thick and fast, with some added melodic style guitar parts and some clean vocals, and the inevitable guitar breakdown, you've got a good song here.
The album can be hit and miss at times which is a shame. Some songs do sound too familiar as you can hear on 'The Death Of Me', 'Poison' and 'Creature' they all have a similar song structure and sound of heavy breakdowns, guttural screams and clean singing. 'Run Free' and 'Believe' both bring some serious heavy riffs but also some positive lyrics to the album as well. During a slow orchestral break on the earlier song Danny Worsnop sings "you won't, you won't be alone in the end, you don't have to be afraid".
For the rest of the album it feels like your taken back in time to the 80's as on 'White Line Fever''; the lyrics are sound straight off a Motley Crue album. The guitar riffs and recognisable lead guitar on 'Moving On' really showcase the 80's vibe with all sung lyrics it's an interesting direction that kind of works.
The lead guitar work on 'The Road' really shines through combined with the breakdowns and melodic sung vocals Danny sings about having a normal life "I want to go home, I want to sleep in my own bed, I want a normal life again, is this the end, is this the end…..all I know is the road" . The band of course finish the album they know how on 'Until The End', as heavy riffs come through, the screams and lead guitar work soon come thick and fast. With some guest vocals from ex Killswitch Engage vocalist Howard Jones, both of their clean sung vocals really blend well together and make the song a definite stand out track.
The album isn't too bad but it isn't particularly spectacular either as the songs range from mediocre to good and the odd song is great. From the riffs and the slowing down of the drums and some more rocky sounding songs the band are slowly moving away from the metalcore sound. Danny Worsnop's vocal range is very varied on this album, from guttural screams to clean vocals to some almost crooning style vocals it's a nice mix on the album. If the band really want to impress they need to really work and own their own style and sound and stick to it.
3/5
'From Death To Destiny' by Asking Alexandria is out now on Sumerian Records.
Asking Alexandria links: Offical Website|Facebook|Twitter.
Words by Aaron Wilson.