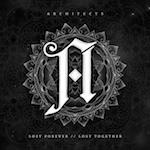 Since their debut release back in 2006, Brighton's Architects' status have gradually risen release after release to the point now where their sixth album is one of the most anticipated releases of the year.
'Lost Forever, Lost Together' marks the band's first release on Epitaph Records, and the first without founding guitarist Tim Hillier-Brook. Nevertheless the quartet have certainly continued to push themselves with a razor-sharp collection of metalcore that exceeds its expectations.
From the start, 'Gravedigger', 'Naysayer' and 'Broken Cross' delivers a hat-trick of hard-hitting numbers that will please longtime fans of the band with Sam Carter's confident clean and aggressive vocals still as powerful as ever. All three set the bar high early on.
'The Devil Is Near' meanwhile, sees the band become more intense with cavernous drums and deafening guitars complimenting Carter's passionate and tortured vocals.
Throughout, the band's tempo is at full-throttle and their instrumentation is effective as they push themselves technically, and as tracks like 'Dead Man Talking' and C.A.N.C.E.R.' show, when its combined with Carter's vocal prowess, the final result is certainly satisfying.
Another admirable quality of 'Lost Forever // Lost Together', is the band's willingness to challenge themselves as songwriters. 'Colony Collapse' has subtly haunting violins adding emphasis to Carter's desperate words; "This time there's no where to hide, We're facing the firing squad side by side.". Along with its twisting guitars, 'Colony Collapse' is one of the album's highlights.
Although there are hints of the band taking a more atmospheric approach in the later stages ('Youth Is Wasted On The Young' and 'The Distant Blue') throughout 'LF // LT', its the band's sheer brutality and muscle that shines through. It's a raw, intense record both musically and lyrically that doesn't let go from the beginning.
It also has to be stated that the production work of Fredrik Nordström and Henrik Udd has provided Architects with a more well-balanced sound that allows each members parts to shine individually.
Overall 'Lost Forever // Lost Together' has everything you want and more. From technical riffs to pulsating breakdowns to explosive choruses to passionate vocals, Architects have grown into a band with a purpose. Their unrelenting ability to develop as a band that stands out from the metalcore crowd has certainly been achieved. They are a band with a conscious, and 'Lost Forever // Lost Together' is evidence that they are willing to evolve and push themselves with the final payoff being exceptional.
4.5/5
'Lost Forever // Lost Together' by Architects is out now on Epitaph Records.
Architects links: Website|Facebook|Twitter
Words by Sean Reid (@SeanReid86)