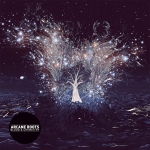 Following last year's much-vaunted 'Left Fire' mini-album, Kingston-Upon-Thames three-piece Arcane Roots release their debut album 'Blood And Chemistry', a quite special album in many ways. 'Left Fire' blew many away, but gone is the grittier sound of that record; in its place comes cinematic atmospherics, which places this record in the company of Biffy Clyro (both pre- and post- 'Puzzle' eras), and the progressive post-hardcore of Thrice and Circa Survive. 'Blood and Chemistry' has phenomenal scope to it, encompassing soaring space-rock with a heavier undercurrent, stadium-ready singalongs that reach for the stratosphere and fragile, beauteous acoustic moments – however, its main strength is also its weakness, as by letting the focal point of this record drift constantly, 'Blood and Chemistry' ends up meandering, to its ultimate detriment.
There's little wrong with the material at hand; in fact, the band have built upon early promise fantastically here and sound wonderful throughout; it's just SO. DAMN. LONG. Even the shortest track present pushes the 5-minute mark, and though the quality level is consistently high, there is far too much to take in, and the trio have fallen victim to their own ambition. Every track follows a similar pattern – initially it's compelling, mesmerising and awesome (not dropping the 'e' word), but attention wanders quickly, and the listener finds themselves drifting in and out of full engagement with proceedings, songs melding into a vast soundscape of musical wallpaper by the end.
Another stumbling block this album presents is its production. At times, producer Dan Austin gets it absolutely spot on, and some of the passages on this album, such as the breathtaking, djent-esque levels of heaviness on 'Sacred Shapes' and 'Triptych,' or the vocal talents throughout of Andrew Groves – if anyone has seen the episode of "American Dad!" where the lead character has a quasi-religious experience upon hearing the vocal of My Morning Jacket's Jim James, Groves has those kind of vocals. However, there are also moments when this can sound inorganic and forced, contrary to 'Left Fire's rawer elements which were its most formidable calling card.
Arcane Roots are a unique prospect in a world of factory-line, cookie-cutter acts, for which they should be rightly praised, and if 'Blood And Chemistry' was a more concentrated, honed effort, this could be something very extraordinary indeed. Many bands before Arcane Roots have made long-form progressive rock, but have kept the attention of the listener rapt throughout with creative and artistic sublimity; this however, falls short of the mark and is a style that does not suit the considerable talents of the South-West Londoners.
3/5
'Blood and Chemistry' by Arcane Roots is released on 6th May on Play It Again Sam (PIAS)
Arcane Roots links: Official Website|Facebook|Twitter|
Words by Ollie Connors (@Olliexcore)