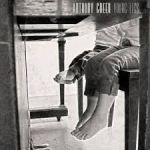 There are some singers whose voices you love unconditionally, who make you tingle and you would love them singing even something as mundane as the alphabet. Then, there are some who make you feel that you can't quite turn the radio off fast enough when they start a song. Unfortunately, normally, Anthony Green would fall into the latter category for me, and Circa Survive have never really been one of my favourites. However, on listening to 'Young Legs', a richly orchestrated and shimmery collection of poppy piano and acoustic guitar tracks written for family and friends with a lot of heart and sentimentality, I find I'm having to reconsider my reasons for not giving them more time.
Green's Striking lyrical voice is strong and holds its own beautifully against choruses of singers or against sweeping strings, or lightly spiralling guitars that leave you in a heady mix of daydreamy piano. the towering 'You Have to Believe It Will Happen' is like a hug from a reassuring friend when you've had your broken heart handed to you, the mix of chorus and lilting guitar makes you feel a lot lighter, and ready to pick yourself back up. The big chorus of 'Young Legs', a song about his relationship with his young kids is sweetly heart-stirring; the power and drama in the piano reminiscent of Fiona Apple (name-checked as one of the big influences on this album).
There's some sadder moments in tracks like 'I'll Miss You', a song that reflects on our memories about others, and dealing with the loss of a friend, delivered through stark piano, solemn drum beats and a sweeping but restrained violin part. It's a painfully simple sentiment, but it tugs at your heart strings nonetheless.
A lot of the themes of this album have to do with that issue of change and growing older, and though there are happier moments, I'm pretty fond of the darker edges, such as 'Breaker' or 'Stolen'. 'When You Sang To Me', the wistful and regret laced track, is a highlight – that feeling of thinking about an old flame, that dances around like those enticing little fantasies of what could've been. The sultry guitar and piano are so inviting, that it's hard not to be seduced even temporarily. Overall, It's been crafted excellently and the hooks are easily picked up on first listen, and if feels like this is the kind of pop music that will let you sink into it and just forget about anything else. If anything, at times there's a bit too much massiveness to some tracks, and they're a bit overpowering, but on the whole, I feel they get the balance right.
At times throughout, I felt like I might be overcome by the wave of mixed up feelings between the tracks, as it jumps around fairly frequently. There's a wide range of emotion to here to take in, but I suspect that this might be the point. This sounds big and bold, and where normally there would be distortion or riffs, there's a much simpler approach taken that boosts tracks like 'Breaker' or 'You Have to Believe it Will Happen' so they hit harder. There's maybe not anything that hits like a sucker punch, but it's hook-laden, and it's as lush and lovely as it is easy to listen to. Even with my initial trepidation towards his voice, I have to admit, Green seems happily in his element here. With the chorus of epic 'Shine', I find I'm humming along like I've known this album for years. I'm beginning to see what I've been missing out on, maybe it's time to give those other records a try.
4/5
'Young Legs' by Anthony Green is out now on Moshtradamus Records.
Anthony Green links:Facebook |Twitter|Official Website
words by Heather Robertson (@thecuriosity)