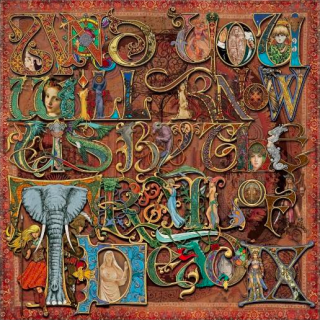 It's hard to believe with a moniker as unwieldy as theirs that they've lasted this long, but Texans …And You Will Know Us By The Trail Of Dead celebrate their 20th anniversary this year. Though their recording career has been somewhat in the doldrums since their late-90s/early-00s heyday of 'Madonna' & 'Source Tags & Codes' (2011's excellent 'Tao Of The Dead' excepted), the band are still plugging away attempting to recreate the energetic, chaotic blend of art-rock & post-hardcore those earlier records engendered. There seems to be no middle ground with …Trail Of Dead records, they either hit home emphatically or miss wildly, and 'IX', so named as it is their ninth studio effort, errs more toward the latter category. In an attempt to control the wayward ambition that has been the pitfall of past efforts, …Trail Of Dead have ended up sounding listless and meandering for the most part here; though there are elements to write home about for long-term fans.
'IX' falters as soon as it starts with the first two tracks sounding identical and interchangable – while the tempo might be high, it's hardly frenetic, and as a result the opening gambit feels plodding. After the first seven minutes are spent thinking "Is that it?", 'A Million Random Digits' begins promisingly with a fiery punk riff and squealing lead-breaks, but for all the sculpted atmospherics the song in question goes nowhere, fizzling out to a damp squib without even coming close to delivering its payload. 'Lie Without A Liar' does its level best to resurrect a floundering early segment, but this only leads into the turgid mid-section detritus, 'The Dragonfly Queen' in particular sounding, if presented without its reverb-drenched sound effects, like a throwaway late-90s Oasis album track.
At this point, the album is bisected by instrumental track 'How To Avoid Huge Ships' and contrary to what's been offered thus far, 'Bus Lines' finally delivers something with purpose and meaning. Following the tepid material 'IX' has served up thus far, seeing a seven-and-a-half minute track ('Lost In The Grand Scheme') follow a six-minuter filled me with a sense of dread, but it's on this duet that the album finally provides something of substance rather than hoping sound effects would suffice in place of actual, y'know, songs. A whole album of these nu-prog miniature epics would try the patience somewhat, but it's great to hear the band feel free to experiment and expand rather than trammel themselves in within short-form restraints.
Finale 'Sound Of The Silk' sees …Trail of Dead lapse into the pop-psychedelia that has served them well in the past, showing further evidence of the dichotomy and bottom-heavy nature of this record – perhaps the title of their 2006 album 'So Divided' may have been more aptly applied here. A mixture of soaring highs and baffling lows, 'IX' acts as a microcosm for …And You Will Know Us By The Trail Of Dead's career to date. With their reputation as an incendiary live act safely consigned to the rock and roll history books, in an attempt to resurrect their album-based travails they've tried to sound ordinary, only to seemingly discover that the quartet are at their best when being anything but. As the Austin, TX natives embark on their third decade as a band, one can only imagine what they have in store for album number ten; let's hope it's half as interesting as 'IX', as only one half of this record is actually interesting.
3/5
'IX' by …And You Will Know Us by the Trail of Dead is out now on Superball Music.
…And You Will Know Us by the Trail of Dead links: Facebook|Twitter|Tumblr
Words by Ollie Connors (@olliexcore)