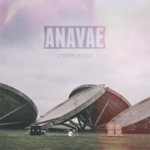 Anavae aim to "create sounds from the future" according to lead vocalist Rebecca Need-Menear, well to me this sounds like the past. Now this might seem a bit harsh, but we heard Paramore doing this on 'Riot!' in 2007; that was six years ago. It didn't interest me then and I cant say it does now.
What Anavae do, admittedly, they do well. The production here is sharp and musically it's sound, the vocals are good, the bands instrumentation is fitting in the constraints of the genre. It's all in the right place at the right time, so why aren't I enamoured with it you ask?
Lead single 'Storm Chaser' is an exercise in pop rock, done properly. It has catchy hooks, a good chorus, Musically, it's sound. It has a strong lead vocal that makes you take notice of the band. The main issue is it just feels to me like the band are going through the motions. It's by the numbers. And frankly, I'm tired of that.
Also on offer here, we have 'Ghosts In The Machine' and 'This Light' both of which are again, decent enough tracks for the genre, they each have a good chorus that you can sing along to; they don't do anything for me, but the top 40 radio audience the band are obviously aiming for will lap it up.
This brings me onto my next point nicely, the other two tracks are an acoustic version of lead single 'Storm Chaser' which i'd say is probably unnecessary, but it works well enough and the arrangement is at least different to the original. I've been fairly reasonable in my criticism of this record so far I feel; however the remix included here, 'Aequilux (Ransom And Locke Remix)', is completely un-needed fluff. It's an awful foray into dubstep that has no place on this EP. Infact it would be better to be never heard again. It's a blatant attempt on Anavae's part to appeal to that Radio One casual audience, and I think that's what annoys me most. The shameless wanting to appeal to everyone, "the straight forward pop rock might not get through to the dance fans so if we stick this on, it will interest the dance fans out there too".
Overall, apart from that, Anavae aren't a bad band by any stretch, the record just doesn't appeal to me in the slightest, which is a shame as I always enjoy hearing exciting new female fronted bands. The band no doubt will have some success, they are being championed by the right sort of people. That casual audience will no doubt enjoy Anavae, but sadly, for me it just didn't show enough interesting moments or stand out enough from all the other pop rock out there.
1/5
'Storm Chaser' by Anavae is out on 10th February on LAB Records.
Anavae links: Facebook|Twitter|Bandcamp
Words by Ryan Clayton (@clayton_ryan)