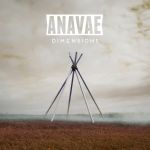 This two-piece group from London have a lot going for them, they look young and fresh, and have garnered the backing of Scuzz, Kerrang, and Red Bull. With the momentum they've been gathering, due to support slots with Kids in Glass Houses, iDivide and Hawthorne Heights, is there enough to justify the buzz surrounding their new release?
'Dimensions' is a 8 Track mini album of poppy rock music, barbed with electronic hooks making efforts to reel you in. The whole thing feels largely like a showcase for singer Need-Minears' strong vocals, which are full and pretty well developed, but at times runs the risk of sounding bland and samey. First single 'Storm Chaser' has some nice guitar melodies and the electronic fuzz threatens crackles away in the background fittingly like a storm brewing, while 'Anti-Faith' uses autotune as a feature, paired with the powerful statuesque drums in it will ensure it's success as a future single, but it's a bit plodding in places. There's a shimmering ballad in 'Aeon', which wouldn't feel out of place being sung by Ellie Goulding, it's all very precise and polished, but even the rawer edges feel a bit safe. 'Hangman' sounds promising, with its opening arpeggios sinking into a darker, more bass heavy chugging track, but even then there's not too much to write home about.
The band say that they aim to create sounds from the future; while there's no clear rooting in the past, it doesn't feel so much like the future as shades of present music shoved together. While the recording sounds professional, there's nothing really backing up the shiny exterior. There's not a lot of dimensions here. It's nice pop music, but it's not threatening to upset your favourite albums list.
2.5/5
'Dimensions' by Anavae is out now on LAB Records.
Words by Heather Robertson (@thecuriosity).