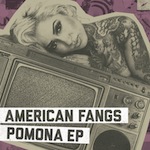 Texan rockers American Fangs are on full-force UK invasion, wait and see – you'll be their next biggest fan. American Fangs have already won over Jacoby Shaddix who hand-picked the group to support Papa Roach on their December UK tour. Before touring around the UK, they are releasing their latest EP 'Pomona' to get us all pumped.
'Pomona' is fast-paced and has a fiery punk-rock attitude. Each track features electrifying riffs, a heavy beat, big hooks, catchy lyrics and captivating melodies. The vocals are furiously powerful, with hardcore screams and sing-along choruses. Basically, it's a mix of the finest rock ingredients to get you completely intoxicated in American Fangs' unique hardcore style and sound.
The top tracks are the title track 'Pomona' which is a wicked opener for the record, and 'Get The Hell On' which lives up to its devil-ish name- with wicked vocals and an adrenaline filled beat.
The group have even showcased their more emotional-side by including a sweetly mesmerising acoustic number 'Sorry'. The track is a truly beautiful hit with wonderful riffs and heart-filled lyrics. Even the closing hit 'Le Kick' is a smashing hit, regardless of it being an original demo version. It has enthusiastic vocals, and jabbing hooks to get you on your feet to the punchy melody.
To sum it all up, 'Pomona' is a superb explosive EP that will secure American Fangs a new UK fan base. They have managed to create fresh punk-rock tracks with an edge, and have a unique prevailing sound. This lot will be leaving their bite marks on everyone who gives 'Pomona' a listen.
4/5
'Pomona' by American Fangs is out now on In De Goot Recordings
American Fangs links: Website|
Facebook| Twitter
Words by Chantelle Kelly (@ChantelleKelly3