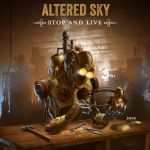 Scottish Pop punk bands aren't exactly what the area is known for: you're more likely to think of po-faced indie, massive instrumental rock or electronic pop in the last few years. Altered Sky are keen to change that, and with their upbeat danceable rocky pop music, they will definitely find an audience. 'Stop And Live' is full of tracks which will definitely be keeping kids dancing at pop punk shows, and with production work from Romesh Dodangoda at Longwave, it feels like they've improved to a new level in terms of production and focus.
'Stop and Live' brims with the saccharine sweet vocals over lyrics of self discovery and growing up. First track 'Where I Belong' runs rich with some self-belief, optimism and lyrics that continually mention fairytales and finding that place that's your own, something which will definitely appeal to teenagers discovering this for the first time. I know that the band would hate to draw comparisons bands like Paramore, but singer Ana Nowosielska has more than a shade of Williams' delivery in her style of singing, especially notable on 'Traitor in Me', like her line "bodies on the floor, keep your eyes on me" or when she remarks, "But i'll be fine, 'cause now I can scream". That should not be treated as an insult, but it sounds like there's a bit of growing and strength to be found in those vocals which will come with more experience. I definitely feel the vocals hit a high note in 'Live For It', where she sounds hopeful but also assured in that things will be better for her.
There's a simple but driving base rhythmically underneath all of these tracks that serves mostly to provide a good frame for the vocals and melody, if all fairly similar. The drums on 'Live for It' and 'Traitor in Me' I really like, and suggests that there's a lot more there in the tank to come. It'd be nice to see a bit more from the guitar parts; there's solos in 'Traitor in Me' and 'Decay' but otherwise they seem to take a back seat to vocals, and seem content to palm mute their way through the verses and provide an occasional flourish for the melodies.
Overall, it's not rocket science, it's pop punk; with emphasis on the pop. I definitely think it will find an audience with young British kids, and there's a strong message of self-belief which will definitely hit home. It does have promise, and with the band's hopes of a full length release and plenty in the touring schedule for this year, I don't think this will be the last we hear of Altered Sky.
3.5/5
'Stop and Live' by Altered Sky is out now.
Altered Sky Links: Facebook|Twitter|Website|Bandcamp
Words by Heather Robertson (@thecuriosity)