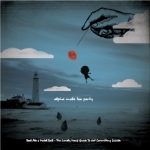 Math rock is about ideas. The genre's greatest display is a deft ability at combining melodies with asymmetric rhythms. Ditching the rock and pop traditions of structure, math rock bands find themselves effectively free from the type of restrictions and commitment to conventions that have gradually killed many a genre. Such extensive freedom, however, can also prove a frightening prospect, as forward-thinking ideas sometimes drown without the capacity to successfully contain and control them (something that many prog bands tend to discover later, as they mature). This is certainly not the case for Liverpool outfit Alpha Male Tea Party, who barely put a foot wrong on new EP 'Real Ale And Model Rail: The Lonely Man's Guide To Not Committing Suicide'.
Their debut album 'AMTP' was technical but never alienating, both heavy and delicate, and displayed that welcome swagger that so effortlessly dispels the risk of them becoming overly-cerebral. It was, all in all, a resounding success. 'Real Ale And Model Rail: The Lonely Man's Guide To Not Committing Suicide' picks up exactly where they left off, back when their debut was released in April 2012. Their delicate elements are beautifully summarized in opening track 'I Don't Even Like Hollyoaks Anyway'. Highly atmospheric, it opens to soft, tasteful and very melodious guitars before it opens up to devour the soundscape with crashing cymbals, expansive guitars and a touch of vocals to provide a glorious ending. 'Taste Like A Dog' immediately introduces the listener to the more technical end of AMTP spectrum with a flurry of ideas. Frenetic rhythm guitars in the background, offset by off-kilter lead guitar work, and a dash of Battles-style exotic instrumentals, 'Taste Like A Dog' never gives the listener a chance to breath, as the band endeavour to complete their exploration of a family of licks.
Vocals are more present on 'Go To The Ant, You Sluggard', which means (as it oftens does) a simplifying of the instrumentals in order for the song to not saturate in sound. Unfortunately, AMTP instrumental work is by very far their most impressive aspect and compromising that talent for what is perhaps a more accessible facade is a perfectly legitimate but still a slightly disappointing one from a genre fan's perspective. Thankfully, their consistently fun rhythmics are back and heavier than before on short, but unhurried, track 'Truffles'. Committing themselves to tearing the walls down, AMTP mix power, brains and a taste for sludge perhaps. The band close the EP with a song that showcases pretty much everything the band can do, and do well, in a tale of two halves. The first is heavy and technical, rhythm-focused and perhaps a little dance-y (?!), while the second simmers from soft atmospherics into its expansive finale. A bright spot.
Throughout, AMTP channel both You Slut!'s frenzied approach and the tasteful guitar work of Brontide, but feel in no way indebted to any. Interesting ideas are never allowed to overreach, the sign of a mature band who know how to deliver their music in the best, least indulgent manner. They were perhaps ones to watch beforehand, they are now ones to follow closely.
4/5
'Real Ale And Model Rail: The Lonely Man's Guide To Not Committing Suicide'  by Alpha Male Tea Party is out on the 26th August on Superstar Destroyer Records.
Alpha Male Tea Party links: Website|Facebook|Twitter|Bandcamp
Words by James 'Bearclaw' Lewis (@swissbearclaw)