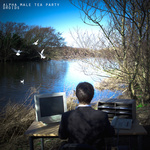 Truly, there must be something in the British air. A label much-debated for its inability to accurately describe the immense breadth of styles it encompasses, post-rock isn't immune to a little stagnation. The very point of the genre being the liberation from the shackles of traditional conventions of rock, it's sometimes disappointing to to observe the evidence of "groupthink" -or is this "groupmake"?- seeping in. Yet England and surrounding islands have, in recent years, been consistently producing forward-thinking post-rock outfits. 2013 gave us Axes' joyous self-titled debut, and the riff-heavy power-duo Cleft have already set a high bar for the current year (and let's not even get into the post-rock talent factory that is Ireland). Time to introduce the newest contenders for the crown: Alpha Male Tea Party and their thunderous, all-over-the-place bonkers, explosive second album 'Droids'. Bred somewhere in the vicinity of Liverpool, this frenetic and unpredictable trio have undoubtedly produced what will be one of the stand-out albums come the end of the year. Brimming with energy and invention, 'Droids' is essentially a greatest hits of everything good about post-rock.
Making quite sure they've got your undivided attention, AMTP stack their heaviest and most relentless material up front, namely the opening double of 'Happy As Larry, Larry Is Dead' and the spectacularly-titled 'You Eat Houmous, Of Course You Listen To Genesis'. Not exactly full-on beastly riff-fests nor twinkly unintrusive math-rock, they strike something of a satisfying middle ground (the latter particularly) between genuinely mighty brawn and the restless ingeniosity of their myriad twists and turns. There's a tangible force to their approach which, combined with a powerful sense of urgency, make for deadly effective delivery on a consistent basis. Indeed, the feat is repeated, again and again, on tracks like the equally savoury 'You Are My the Rock' and in the wizardry of 'Theme From Mastermind'.
To claim that they slow down thereon, however, rather doesn't do it justice. Nevertheless they do allow more breathing space with the occasional ample ambient section. 'Your Happiness Was Stored On A Hard Drive And Is Now Corrupt' betrays a more delicate side, founded on pretty melodies and crescendo structures not unlike those of This Will Destroy You. There are also hints of early Russian Circles in the expansive reverberation and deliberately-placed, but nevertheless crushing, riff work of 'God Is Love, But Satan Does That Thing You Like With His Tongue'. However no track on the album offers a better summation of what Alpha Male Tea Party are all about than 'Athlete's Face'. The track virtually provides an exhaustive landscape of everything rad about post-rock: ethereal soundscape intro, reverberated arpeggios, mathy riffage with unusual chords, dynamic changes in tempo, spine-tingling rhythmic stops, a calm before the storm, contemplative synths, emotional melodies, and a finale both sludgy and abrasive. It is, quite simply, a post-rock buff's wet dream.
If Alpha Male Tea Party's previous EP 'Real Ale and Model Rail: The Lonely Man's Guide To Not Committing Suicide' served as a fun little entrée, then 'Droids' is one gut-busting plat de resistance; a near-perfect, and balanced, serving of the post-rock food pyramid. Genre-buffs are likely already all over this, but its technical-without-being-alienating approach and general greatness suggest genuine crossover appeal. Now… to experience these lads live, THAT is something that surely needs to be considered essential from now on.
4.5/5
'Droids' by Alpha Male Tea Party is out now on Superstar Destroyer.
Alpha Male Tea Party links: Facebook|Bandcamp|Twitter|Official Website
Words by James Berclaz-Lewis (@bearclawlewis)