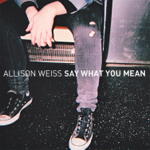 It's been a long time since I've had an album on so repeatedly. Normally when I listen to a new album, and I like it, I'll listen to it once or twice a day. However, in this instance, it's been a case of a minimum of 5 times a day and I can't imagine listening to much else right now. Allison Weiss' second album 'Say What You Mean' is the perfect album of indie rock gems. Yes, perfect.
Maybe it's come at the right time for me. A time when all the lyrics seem to be so relevant and personal to my own life that I wonder if somebody is recording my lonely days at home, eating PBJ sandwhiches in the bath, for a mass audience to enjoy in a Truman Show style escapade. How else could lyrics such as "Tell me that I'm making it up and I'll leave you alone" and "I'm the kind of person who waits right through the rain/Guess you're the kind of person who runs and hides and blames it on the hole in your heart" not be about my life?
Well that's Weiss' undeniably catchy charm; storytelling. Honest, heart on your sleeve story telling that churns on your heart strings and plucks each one with such sweet melodies that you'd forget your heart's a broken array of shards on the floor. It's evident in every song and the aforementioned lyrics from 'Making It Up' and 'Hole In You Heart' respectively are both songs on the disappointing, gut wrenching side of love. It's not all doom and gloom though as 'One Way Love' shows a positive side to that mysterious feeling we'll all experience at some point. 
Lyrically there's a lot of depth and the magic here is the honesty and how relatable they are; that's what makes a good story teller. Luckily though Allison Weiss is the whole package and comes complete with song writing talents for the same price. All these lyrics are given the proudest of pedestals to perch on, pedestals of neatly constructed riffs, chords and progressions that scream this pop sensibility. Pop songs are so simple and that's no criticism, ever. You don't need a lot to write something that's incredibly infectious and that's exactly the flu that Weiss has.
But this isn't Top Of The Pops. This is a brilliant No Sleep Records artist to join the army of talented individuals within the roster, sharing the same passion for music. The same passion that Weiss pours in from her bucket heart. There's so much for her to give and you can experience a shining example on 'How To Be Alone' as she sings "All the time" with each phrase taking a little bit more strain as the song slows down to an end.
I can't find a fault with this record. It's so simple but should be the latest musical epidemic in equal measure. I challenge you to not find something to relate to in this album. I challenge you to not hum along to any of the songs once you've worked your way through the album. I challenge you to not have this in your albums of the year come December.
5/5
'Say What You Mean' by Allison Weiss is out on the 16th April on No Sleep Records.
Allison Weiss links: Website|Facebook|Twitter
Words by Mikey Brown (@MikeyMiracle)