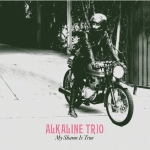 Three years on 'This Addiction' and following an acoustic record (2011's 'Damnesia') and one or two side projects, Alkaline Trio have returned with 'My Shame Is True' and on the surface, it's business as usual; a tight collection of melodic punk rock with a subtle dark twist. However, vocalist Matt Skiba's songwriting steps up a notch by taking a more direct, personal approach with the end result being some of the bands best work in recent years.
Following the Ramones-influenced opener 'She Lied To The FBI,' the catchy 'I Wanna Be A Warhol' kick-starts the record with that familiar Alkaline Trio melodic drive. While 'Kiss You To Death' is a brooding, heartfelt love song that is perfectly executed with an energetic payoff.
Later on vocals from bassist Dan Adriano and Tim McIlrath of Rise Against compliment each other well on 'I, Pessimist' a blistering two-minute punk rock onslaught. 'Only Love' is a slightly haunting ballad-like number with a playful piano melody throughout whilst Adriano's vocals confidently soar. Penultimate track 'Young Lovers' strongly showcases a similar trait.
The downfall of 'My Shame Is True' there are times you can't help but feel the band's ideas are recycled. Tracks like 'The Torture Doctor' and 'One Last Dance' are pleasing enough to longtime fans, yet they could appear on any one of Trio's previous releases.
However 'Midnight Blue' is one notable highlight with Skiba's compassionate lyrics, upbeat tempo and it's subtle guitar solo, adding another dynamic to the bands sound.
Overall on first listen its easy to class 'My Shame Is True' as just "another Alkaline Trio record" but with Skiba's cathartic lyrics, Bill Stevenson's slightly slick production and the bands tighter sound reminds you why you liked Alkaline Trio in the first place. Despite the occasional downfall, 'My Shame Is True' is a vibrant and consistent record that takes the personal lyrical element of the bands early releases and combines it with a polished, approachable punk rock sound.
3/5
'My Shame Is True' by Alkaline Trio is available now on Epitaph Records.
Alkaline Trio links: Official Website | Facebook | Twitter
Words by Sean Reid