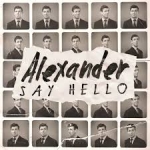 It has to be said, it's hard to question or fault the talent that is coming out of Britain at the moment; with bands such as Young Guns and You Me At Six starting to leave marks over in the States, it's so clear to see how much big rock talent we're producing on such a small island. Alexander should be no exception to this; 'Say Hello' delivers a fresh sounding, perfectly styled indie rock album with a pop edge that should be a hard one to miss this year. 'Say Hello' is the ultimate summer album; 'You Lost Yourself' is a dancey indie pop track with a completely Foals-esque chorus that is completely addictive whilst 'A Sweet Song', showcases their more mellow side with a sweet acoustic number. It's not hard to imagine listening to some of these tracks in your garden, kicking back in the sun. Moreover, the combination of its soft indie rock with upbeat pop melodies means it's an appealing album to most people and is also ideal radio material.
Vocally, they're not far off sounding like – now defunct – pop rockers Futures, but musically they're slightly more intricate and more interesting to listen to. The thing this album has going for it, is the fact that each song is a bit more different than the last – not miles different by any means, but there is some kind of change up; meaning it's a record that you find yourself picking a new favourite from each time you listen to it and to me, that's a sign of a great album if anything.
One of the standouts on the album is 'Maybe I Was Wrong', it just provides everything you want to hear from a ridiculously catchy song: it's anthemic and leaves you with a chorus that is stuck in your head all day.
With 'Say Hello' being Alexander's debut album, it is clear this is just a taste for what they have to come.
4/5
'Say Hello' by Alexander is available now on I Am Mighty Records and iTunes.
Alexander links: Official Website|Facebook|Twitter|Youtube
Words by Sarah Russell.