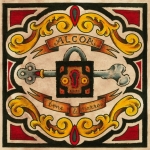 Lead vocalist and solo artist for Alcoa is no stranger to the limelight and the music scene; Derek Archambault has spent the last four years touring with his punk/progressive hardcore band Defeater. But with the decision to finally record this full length album, it really showcases his talents as a songwriter and performer as well and lets him finally get these songs out for people to hear.
The album starts off with 'Keep Track, Lose Track',a song packed full of instruments as the song has plenty of acoustic guitar with some added banjo in the background and organ to add another element; it's a great mix and a strong start. Next up is a slower song 'Drowned' with acoustic guitars and a banjo and some lap guitar it's a slow, gentle sounding song. As Derek sings his way through some emotive lyrics it flows along at a comfortable, easy going pace. Third song in and the pace slows down as a simple acoustic feel song 'I Don't Feel Welcome Here Or Anywhere' comes in to bring a sombre feel to the album. The song finishes on a big high with a scratchy sounding lead guitar part leading into silence.
The album has some great sounding intricate songs like 'Rilke', 'Lucky Me' and 'Family Tree' all utilising every sound aspect of the whole album. As acoustic guitars power through, lap guitars add a different feel, lead guitars add more layers and the slow emotive voice of Derek, all of which blends well and works together. The country style feel to all of these songs really shine through and show off the Tennessee musical style. Slower songs like 'Cab Rides and Cigarettes' and 'Whiskey and Wine' let Derek show off his lyrical skills as he sings "I heal my wounds with whiskey and wine" showing off his emotional and vulnerable side.
Picking the pace back up, one of the songs which lets the banjo shine through is on 'Limbs' as it comes through thick. With some sliding lap guitar in the background it adds a great element and compliments the banjo really well. 'Second Untitled´ is another song that utilises the sliding lap guitar as it comes through well allowing Derek to croon "coz the ink from my pen it dries permanent and it makes it harder to forget/I'm waiting for the weekend so I can feel good about my drinking" touching upon some deep emotional subjects.
As the album finishes with 'Third Untitled' it starts off slow with just a guitar and lap guitar and slowly builds up. As more instruments get added to the song, first an organ and then soon enough a banjo and a nice lead guitar part, the album finishes in a big crescendo of sound. With a mix of every instrument played on the album it shows off the best of Alcoa as Derek powers through with a powerful sounding lyrical performance.
With the use of multiple instruments the album can come across as abit of an over trying type of album, and not many people will like the use of so many instruments. Some songs could have easily worked with just an acoustic guitar and his voice, but instead a lap guitar or banjo is added. Another thing is that the acoustic guitar sounds very clean and tinny; a rawer under produced guitar sound would work alot better for acoustic songs. 
Overall it's a great album and from what I hear on this album a lot of Derek's fans who follow his band Defeater will be certainly impressed by this effort. With the sound of a soothing voice with an acoustic guitar, lap guitar and banjo, he utilises all the aspects and brings together some great sounding songs. For any fans of Defeater, Frank Turner or The Gaslight Anthem then you should check this out as you'll certainly be impressed.
3/5.
'Bone and Marrow' by Alcoa is out now on Bridge Nine Records.
Alcoa links: Facebook|Tumblr|Soundcloud
Words by Aaron Wilson (@soundslikeajw)