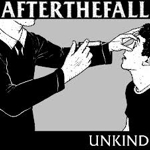 Dwelling in the untraceable radar of the punk rock underground for over a decade, Albany, NY's After The Fall are restructured, primed and ready to deliver their fourth full length entitled 'Unkind', a solid effort of melodically infused and anthem driving hardcore punk urgency.
Despite this being their first offering as a four piece, 'Unkind'  is a really consistent, fleshed out portfolio of work. There is a constant struggle between rage and unhinged melody which is amplified by lightning charged guitars and hard hitting drums. The fast pace is carried by the vocals of Mike Moak who shifts from clean, catchy anthemic vocals which nearly tip over the edge in points to raw yells that sound as if it has been roughened by sandpaper. It's a very engaging sound which you can get your teeth around easily, especially during the slow build ups in tracks like 'Wrong' and 'Double Negative' which knock you to the floor as soon as the green light goes back on and it's all systems go.
Lyrically it's a very inspiring record that will get plenty of disillusioned young people off of their back sides and go from a "feeling sorry for yourself" attitude to a dizzying positively charged anger that simply won't burn out even during the harshest snowstorm.
After the Fall have managed to craft a solid and efficient record that will certainly get you out of the little cracks in the woodwork and ready to unleash all you've got on the world. Tight musicianship helps to deliver anthem after anthem of melodically singed hardcore punk fury that certainly won't disappoint the average punk rock kid.
4/5
'Unkind' by After the Fall is available on the 19th March on Disconnect Disconnect Records in Europe and Paper + Plastick in the U.S.A.
After the Fall links: Facebook|Twitter|Bandcamp
Words by Aaron Lohan (@ooran_loohan)