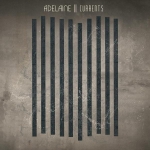 I'm going to be 100% honest: I am very, very picky about female-fronted bands, as I tend to find that most female vocalists sound so sickeningly sweet that it takes all my effort not to throw my laptop across the room.
But Adelaine are so incredibly different to that. Hailing from Texas, this young quintet met in high school and started creating their fresh, vibrant take on powerful rock music. However, it wasn't until vocalist Stormy Piña joined that everything fell into place. And their storming debut album 'Currents' proves just how bold they are – it's the only thing I've been listening to since the album landed in my inbox.
Tracks such as 'Two Cents' and 'Tug Of War' blend crunching riffs with pulsating drumming; it's a potent mix, as they're rather upbeat songs but a darker message lies beneath their frenetic, adrenaline-fuelled tracks. This is evident during single 'Bad Blood'. A track that writes about lies and forgiveness in relationships, it demonstrates Stormy's talent as her vocals simply drip with unspoken power, pushing the boundaries of each and every track to its breaking point. Bruising, emotional and brutally honest lyrics of "Brace yourself for the fall, it's going to bruise more than just your ego" come to life during 'Let Go'. Upon hearing it, it's not difficult to envisage these tracks being sung back by sweaty, hoarse teenagers in venues packed to the rafters, while edgy guitar riffs explode during 'Antidote' and 'I Once Knew', with ferocious drumming lifting the tracks up.
Melodic hooks sink their claws into your skin, dragging you into a beautiful whirlwind of mighty riffs and saucy guitar licks during 'Every Once In a While'. Elephantine vocals stand out as 'Out Of Line' kicks off, with a stripped down bass forming a killer structure for this mighty track.
Closing with 'Home', Adelaine pull on the heartstrings as they bid adieu. A blistering and emotional track, 'Home' is wrought with fragile and tender passion as Stormy's raw, passionate vocals ensure that this young group isn't forgotten about.
 'Currents' is, quite simply, a wonderful creation and I've never heard an album like this. It's an album that spills over with scalding energy. It's deliciously dark, with roaring riffs and melodic, soaring vocals that are stunningly unique.
Now, if someone could do me a massive favour and bring Adelaine to the UK for a tour, then everything would be just perfect.
4.5/5
'Currents' by Adelaine will be released on 30th April via Mosaic Artistry group.
Adelaine Links: Official Website|Facebook|Twitter|YouTube
Written by Jess Tagliani (@JessTagliani)