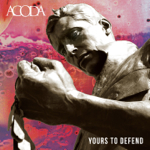 ACODA is quickly making a name for themselves on the metalcore scene. Following an EP release last Spring that brought them accolades and appearances with all sorts of heavy hitters, this four-piece DIY set debut their first full-length 'Yours To Defend', an impassioned social commentary set to screams and chugs.
The album starts out very intense, blasting you with heavy guitars, varied tempo, and gut-wrenching screams. 'The Future Is Yours To Defend' and 'V Is For Ventriloquist' are rife with solid instrumentals that simply scream technical ability, and it's clear the band truly understands how to use dynamics, tempo, and other fundamentals to work in their advantage. The screaming, while very intense, is still completely understandable and a great highlight to the passion the band puts into the heavier tracks.
It's not all wailing guitars and pounding drums, though. ACODA also understands restraint. 'The Ludovic Technique' is a great example of this. Slow clean singing, simple melodies, and sparse instruments serve to punctuate the scream-laden chorus, heightening the hardcore sounds and making them that much better.
'Yours To Defend' isn't just another metal album, either. It explores different sounds and genres to create interesting songs that show they're not a one-trick band. 'Two Of A Kind' starts off slow, with creepy singing and interesting lyrics. It ends up being the most melodic track on the album, with harmonies and a delicate sound that usually doesn't appear in this type of music. 'A Fire In A Cold Place' is completely instrumental and totally refreshing. It starts out with a sparse sound, with ethereal guitars and ends up sounding pretty, before morphing into a harder sound by the end.
Even after all the high points, this album ends up falling short. With all the intensity shown in half the tracks, the other half ends up being the complete opposite. The moments of mellow, sparse sound that at one point just heightened the metal sounds ends up overtaking the hardcore edge. 'Daws Heath'  and 'This Is Life' are okay enough, but the melodies and singing are so mellow and lacking in conviction, it seems at times that the melody was just an afterthought. The final track on the album, 'Alex The Astronaut' really makes a drastic example. It's over six minutes long, and seems to be dragging out forever. It never really gets going, it's extremely slow, and almost sounds like a lullaby of sorts. It's definitely a letdown.
ACODA knows how to write great, balanced songs. They are technically sound, but just get caught up in the message rather than the music. Half of the album won't read well live, which is a confusing choice for a metal band with fans surely expecting an intense show. However, the shortcomings on 'Yours To Defend' probably won't hurt them in the long run.
3/5
'Yours To Defend' by ACODA is out now on Best Before Records.
Words by Jenny Gagas (@Jenny_herself)