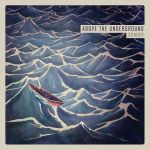 With all the pop punk around at the minute, it can be quite a challenge for a band to step out from the crowd with something interesting, rather than just stage dive straight head first into a sea of sound-alike contemporaries. With their debut full-length, Above the Underground have taken the first tentative steps out with an album that is by no means genre-redefining, but entertaining enough to warrant a good few listens. The Chester quartet have taken the better part of four years and a few tours round the US and Europe to come out with a full release, but the benefits of waiting are easy to see, if not a little few and far between.
The album takes a step away from the current tendency among pop-punk bands to fill songs with unrelenting double time beats, and slows the whole thing down a little bit for the most part. There is a distinct alt-rock feel, with some post-hardcore thrown in for good measure – between big singalong choruses there is some Funeral for a Friend-style guitar work and vocals that sound very reminiscent of Sonny Moore (aka teenage Skrillex). These apparent influences help to keep the music from fitting too easily into one niche and give some leeway for variation between tracks, a very good way to keep an album from becoming stale.
Sonder by Above The Underground
The tracks are generally quite short, with only half reaching 3 minutes, which is a shame since the shorter ones could benefit from being developed and it leaves the album feeling a little under-written. 'I Was Never Lost', not coincidentally the longest song on the track list, makes room for some harder riffing, soft interludes, big choruses and a nice crescendo into its fading outro, leading to the most fully formed and enjoyable song on the release. As good as this track is though, it only serves to shine a light on where the rest of the album could be expanded upon. For example, 'Weathered' and 'Bring Me The Sun' don't have anywhere near the variation and sound more one-dimensional as a result, and the intro track and 'Cheer Up' really just come across as wasted space.
All in all, this album sounds like it's in an in-between state: not enough for a great album and too much for a great EP. The filler tracks aren't by any means bad, but the release as a whole would benefit from expanding on them or cutting them entirely As the album is now, it feels like either a half-finished killer or a long, bloated sophomore EP. That isn't to say that the content at its best isn't high quality – where this album shines, it really shines – but the less impressive and less developed songs push Above The Underground back from having written a great first release to a very hit and miss one.
3/5
'Sonder' by Above The Underground is out now.
Above The Underground links: Facebook|Twitter|Bandcamp
Words by Ben Kosma (@BenKosma)