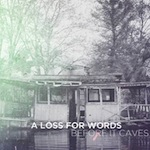 A Loss for Words' 2011 release 'No Sanctuary' was a great album out shadowed by the sheer quality of pop-punk releases that year. It was so good that they were instantly forgiven for the dire Motown covers album they released previously, which is saying something.
What separates A Loss for Words from the general pop punk crowd is that Matty Arsenault can actually sing. His voice is so distinctive and pleasant to listen to that he could sing songs about practically anything and they'd still be listenable. It comes as no surprise then that I had high expectations for 'Before It Caves', which probably goes part way to explaining why I was disappointed with it.
Starting with 'Distance', a tired sounding road song with overused male and female perspective vocals, things weren't off to a good start. Luckily this is followed up by the super catchy single 'Before It Caves' which is reinforced by a cameo from The Wonder Years' Soupy, those gravelly vocals complement Matty's smoother tones. It's a lot of fun to listen to and is destined to be a live favourite.
Tracks three and four are where the issues begin to show, as 'Before It Caves' suffers from some terribly uninspired lyrics. Nearly all the songs on this album are about love or breaking up, which is fine, but the album is plagued by dull lyrics such as, "We're falling in love, never thought you'd be the one." I was hoping for lyrical development from their last album, but A Loss For Words seem to have stagnated in their song writing. There are a few great lines here, "your dead eyes spoke in a decimated language" from Eclipsed is a personal favourite, but there's also a lot of by-the-numbers stuff.
However there are some great songs here, 'No Pioneer' is a cutting callout to an ex-girlfriend and 'No Merit to Envy' explores problems with jealous onlookers. 'The Torch and the Name' is as close as this album comes to a ballad, and makes for a refreshing change of pace. 'Brace Yourself' is the token acoustic number, and really showcases Matty's vocal range making it one of the highlights of the album.
The standout track is the penultimate 'Siesta Key' where A Loss for Words declare that, "some may say to hang it up but I won't quit until it's not fun." The song seems to be the band's manifesto, and feels like one of the most heartfelt moments on the album. So it's a shame they decided to close the album with 'All Roads Lead to Home', a track which already appeared on 2008's 'Webster Lake', a needless addition that ends the album on a bum note.
'Before It Caves' is good, but it's not The Wonder Years mind-blowingly good, instead it's on par with this year's other solid releases, such as Real Friends and Save Your Breath. A Loss For Words deserve success, and it frustrates me that they've let themselves down with a good, albeit flawed album. I can only hope that they up their game for their next album with better song writing and some new ideas.
3.5/5
'Before It Caves' by A Loss for Words is released on out now via Velocity/Rise Records.
A Loss For Words links: Facebook|Twitter|Tumblr
Words by Jay Sullivan.