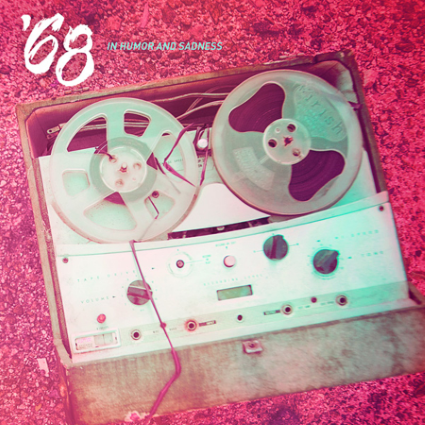 It may seem like an age ago, but it was only last year that The Chariot announced their break-up; the final throes of one of the finest bands modern hardcore has produced. Striking the perfect balance between fantastic recorded output and a live show quite unlike anything else out there, they are unlikely to be forgotten soon by anyone who witnessed their beautiful chaos. However, undeterred on his path to create unique and wonderful music, frontman Josh Scogin returns in the new guise of '68, and for anyone expecting anything along the lines of his previous involvements will find themselves taken aback by the creativity and experimentalism displayed on their debut 'In Humor And Sadness'. A paean to Scogin's adoration for all things roots-based and bluesy, while this two-piece venture does retain some elements from Scogin's canon, such as the throat-shredding vocal present since his days with Luti-Kriss (now known as Norma Jean), this has more in common with acts like 'Bleach'-era Nirvana, The Black Keys and The Jon Spencer Blues Explosion than following hardcore's fairly rigid tropes; but then, The Chariot wouldn't have been half as fun if he'd ever been one to study the rulebook.
The titles of the album's ten tracks are a single letter each, forming the phrase "Regret not.", a simple proclamation, but one that manifests itself through this album's discourse; while the record does not reach an optimum level of consistency, the spaces between the duo's full-frontal assault are not lamentable as they make the moments of adrenaline-inducing pandemonium more valuable. Right from the off, '68 prove what an almighty racket they can make on Track 1 ('R'), with Mike McClellan (formally of prog-metallers Becoming The Archetype) in thunderous form behind the drumkit, as Scogin's inimitable vocal and downtuned riffs make a real statement of intent. It seems that Scogin applies the midas touch to whatever he turns his hand to; the frazzled Delta blues of Track 3 ('g') make pretenders like Royal Blood look like the lightweights they are, and the mid-section "whoa"s are sure to win many over when the duo take this material to the live arena.
Scogin has never been one for self-editing, and much like the earlier Chariot records (recorded in one take) yielding mixed results, there are moments when this can sound like an extended jam session; while Track 6 ('t') sounds phenomenal in full bloom, the acres of feedback waded through to get there may test the patience of some listeners – however, if given the attention it deserves, the record yields many rewards. This becomes apparent during the next two tracks; this record has provided many surprises, but few more unexpected than on Track 7 ('n'), which offers a rare chance to hear Scogin's clean vocal, a facet of his talent that those who haven't discovered his solo ventures under the moniker of A Rose By Any Other Name have seldom beheld. This rare moment of grace amongst the screams puts this track amongst this record's very finest, the strains of sampled strings underneath the squall adding to its finesse. Track 8 ('o') continues the richest vein of form 'In Humor And Sadness' has to offer, as the driving riff, subdued in the middle of the song, fights back to prominence in a punishing ending.
Track 10 ('.') is one hell of a parting shot; whilst not as frantically-paced as proceedings thus far, it's a monolithic, crushing finale to 'In Humor And Sadness', and, in typically Scogin style, it's completely unpredictable by actually being fairly predictable. That's what one can expect from the master of measured chaos – while DIY shops in Georgia are all out of spanners after so many have been thrown in the works on this record, it comes together as a fine excursion into previously uncharted territories. As the bar has been set so high by his previous project, the real proving ground for '68 will be on stage, but from the evidence on 'In Humor And Sadness', something tells me it'll be just as unmissable – I await their visit to these shores with baited breath.
4/5
'In Humor and Sadness' by '68 is out now on eOne and Good Fight Music.
'68 links: Website|Twitter|Facebook
Words by Ollie Connors (@olliexcore)