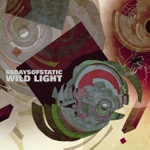 At the risk of stating the obvious, one of the best things about math-rock, post-rock and experimental music is the opportunity for creativity. Of course creativity is a requirement for (almost) any music but with these genres there is a far greater scope to utilise it to what more conventional genres may consider absurd degrees. Influence from these ideas is seeping into other fringe genres at the minute, such as emo and black metal among others, but for the most part, these often-overlapping styles of music provide the best place to hear challenging, intellectually engaging and oxymoronically pleasant sounding music. That's where 65daysofstatic come in.
Somewhat of a powerhouse of their genre, 65daysofstatic have made a mark on their genre both internally and to those on the outside – as evidenced by the chart success of their last studio album 'We Were Exploding Anyway' and their fast-approaching headline slot at this year's Arctangent Festival. 'Wild Light' is the band's fifth studio album, sixth including 2011's film soundtrack for Silent Running, and takes a bit of a turn from previous works.
As ever, the album is instrumental (an obvious point for a band without a singer but one worth mentioning for those unfamiliar) which, as with many post-rock bands, does not leave a gap unfilled as some may suspect but rather leaves extra space to be taken up by intricate blends of electronic instruments and beats with recorded performances. This blend is approached in the best possible way: rather than including any particular element just in order for it to be there or finding a balance for the sake of finding a balance, the impression given is that just finding what works is the goal here. As a result, different songs will be driven by different instruments and do not discriminate as to whether there should be a certain balance achieved – the feature that works best for that particular song is what is used.
The album begins with 'Heat Death Infinity Splitter' which is undoubtedly one of the most electronically prevalent songs on the album. At first glance it feels simplistic and a little monotonous as the 5 minute track is hinged on a single repeating chord motif, but a closer listen reveals a lot of subtle details below the surface, amounting to an intricate and complex ambience until guitars and drums add some punch before the track ends. From then on the album is more built up but often just as subtle, often electing to drive the songs with an electronic core and surrounding them with reverb and delay soaked guitar and either sampled or live drums, depending on what is called for.
Though 'Wild Light' is often subtle in its execution, it does sometimes bring in a little brute force. 'Blackspots' is the best example of this – the track progresses with intricate yet unobtrusive instrumentation into a full-on soundscape fuelled by urgently played drums and the most emphasis on guitar to come from the album. A similar structure can be seen on Unmake The Wild Light' and 'Safe Passage' but these cathartic releases of distorted guitars, synths and strong beats never outstay their welcome and focus themselves towards the end of the album, making for a climactic end that is quite reminiscent of Maybeshewill in particular.
Undoubtedly, 'Wild Light' is an album worth your time. It blends post rock sensibilities with subtle math-rock and experimental, and even industrial flourishes, all doing so without intimidating the listener with abrasively complex time signatures or wildly inconsistent dynamics, which can be great to hear sometimes but can risk turning away some listeners by appearing show-offy. I could not recommend this album or 65daysofstatic more, you would be doing yourself a big favour by listening to it.
5/5
'Wild Light' by 65daysofstatic is released out on the 16th September on Superball Music.
65daysofstatic links: Website|Facebook|Twitter
Words by Ben Kosma (@benkosma)