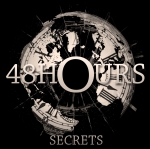 Hailing from Kent, 48Hours are a hard rock three piece combining heavy riffs and soaring vocals; after a healthy stint on the live circuit they have took the time to lay down the tracks for 'Secrets', their debut EP. Citing a number of American hard rock and Nu-Metal bands as influences as well as a few I am failing to see a connection with (Funeral For a Friend being one), this is a strong first offering for anyone into this genre of rock/metal.
'Hollow' opens with a riff straight out of the Nu-Metal handbook, it's straight forward, heavy and as the vocals kick in the influences become apparent straight away. What I do like vocally is the power they have, they're strong and keep up with the song(s). 'Not Alone' is the sombre track on the short release, again it has that 'build up' verse that leads into the hook laden chorus. The track picks up ever so slightly with some more hard rock riffage.
Title track 'Secrets' continues on with the theme of the EP, due to the length of the release it doesn't allow for much change and variety in the song writing. The song writing is linear and formulaic, they can be easily broken down into parts and replicated throughout. As it is so short it doesn't become too repetitive but their next offering I imagine will demonstrate a broader sound.
48Hours will cater for fans of Nu-Metal and (American) Hard Rock bands, although short the EP demonstrates a strong trio of musicians, good at what they do and confident playing in their style. Due to its length it doesn't allow for much change and the release is samey but I suppose consistent. No song is weaker then the other and the band I am sure, will continue working hard and making a name for themselves.
2.5/5
'Secrets' EP by 48Hours is released on 6th May.
48Hours links: Facebook
Words by Robert Maddison