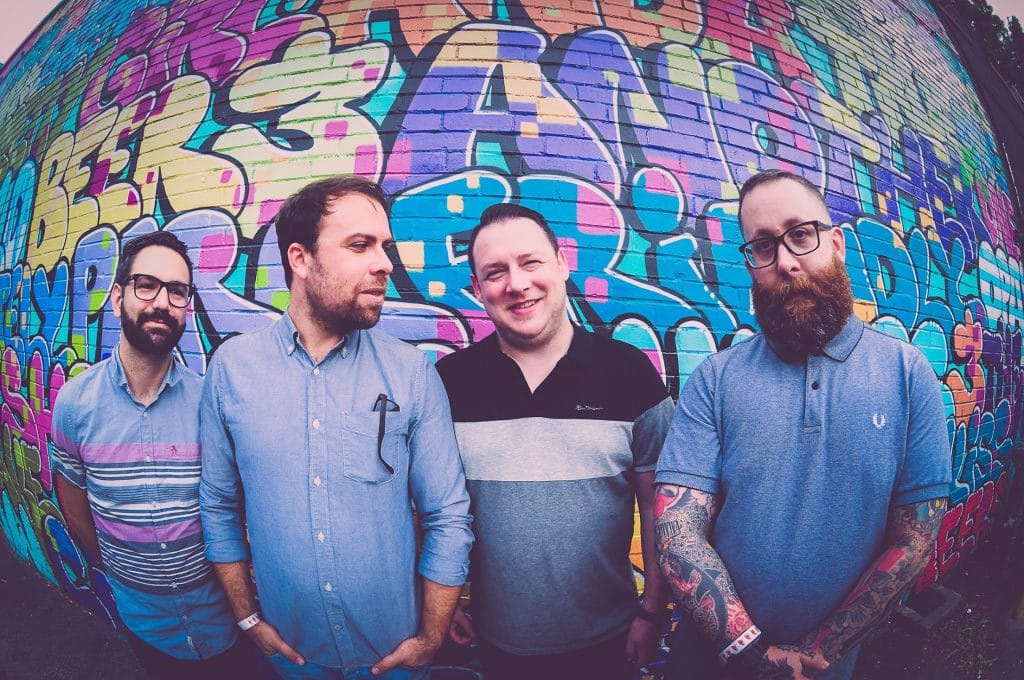 This week Orlando, Florida's Teen Agers return with 'When We Were,' their first album in five years. In the years since 2013's 'I Hate It,' the quartet have matured and experienced personal loss. The resulting record, 'When We Were,' is a lyrically darker outing with songs such as 'Jar Breaker' documenting vocalist Justin Goldman's experience with sleeping aids prescription drugs and mental health. Whereas 'Self Abuse' hints at a post-hardcore direction as Goldman explores coping with loss.
Ultimately, 'When We Were' sees a band who have come through a troubling period and, somehow, finding resolution and comfort in their losses. At its core, is a band who still thrive on raw urgency but now with a wiser and experienced approach.
Ahead of its release on Friday (July 13th), we've joined up with Teen Agers to stream 'When We Were' in full. With a set of deeply personal songs, vocalist/guitarist Justin Goldman and guitarist Jordan Shroyer have given us a breakdown of each song. Justin told us about the lyrical side of 'When We Were', while Jordan talks us through their songwriting process.
1. When We Were
Jordan: 'When We Were' is less of a song and more of an introduction to the album. I've always loved albums with intros, so when Justin presented this idea, I was all about it. It sounds like an organ but it's actually guitar with some crazy effects on it. Andy Karpovck, who recorded and co-produced the record with us, had the idea for the vocal chamber effect with both ranges going at the same time which really makes this track.
2. Overreacting
Justin: This song is about anxiety; over-thinking what's happening around you at all times. Feeling trapped in a situation where you never felt like you've done enough, so you keep trying relentlessly to repair what cannot be fixed.
Jordan: This was one we originally thought would be a track 9 or 10 on the record. We didn't realize how powerful a song it would be until Justin ran through the initial vocal track in the studio. He really put all of himself and the anger and frustration he was feeling at the time he wrote these lyrics into the takes you hear on the record. We immediately were like, "Yeah… this is a perfect first song on the album." It's got so much energy.
3. Jar Breaker
Justin: I feel that this song is self-explanatory, but it's about getting diagnosed and how easily doctors are throwing around medicines to "fix" the problem without giving a shit about what's actually going on.
Jordan: This is the easiest song we've probably every put together. We were trying to learn a cover one night (I won't mention what song, but we may have put it in the title of this one, so you can probably figure it out). After listening to it a couple times, Nick, our bass player went to play what he thought the bass riff was. IT was way off, but I loved it! I stopped him in his tracks and said, "Play that again," and instead of learning the cover, we wrote this. I think the basic ideas for the song were fully formed within 10 minutes or so and it's easily one of my favourite songs we've ever written. Sometimes they just flow out like that!
4. Self Abuse
Justin: Sometimes, you know you're not coping with tragic events the healthy proactive way, and this song reflects that.
Jordan: This was the first song we tried with dropped C-sharp tuning, which we ended up using on a majority of the rest of the songs we wrote on this record. Justin had recently moved to Atlanta, so he'd text us riff ideas he came up with in his basement and then during the next practice, Nick, John, and I would try those riffs with other little parts here and there, and structure them into fully formed songs.
I just revisited the original demo which was WAY more aggressive. We dropped the tempo a bit and opened up the verses, which I think really added a great vibe to this song and helped pave a new direction for us.
5. Never Let Me Down
Justin: This song represents the noise in our heads surrounding a dark time in 2017. We suffered so much loss in our community and family. The struggle in our hearts and hands is still very heavy.
Jordan: Musically, this is a super fun one. And I'm glad we went with such an untraditional structure on it. We made an effort on this record to not drag the songs on or go for too long. We'd rather someone leave wanting more than getting bored—attention spans aren't what they used to be!
6. We Fly
Justin: I've been yearning to be visited in a dream by someone close that we lost. We had a friend who had this dream, where one of our departed appeared and hugged him. I'm still waiting to have that same dream.
Jordan: This is probably the heaviest song we've ever written. I'm obsessed with John's drumming on this song. It's so crazy aggressive and driving with strategic nuance. I can't listen to it without air drumming along.
7. Never Say It
Justin: I wrote the lyrics to this on the side of the road after driving by a late friend's house in Orlando. It was the first time I'd been back since he had passed away.
8. Take Everything
Justin: This one is a tribute to my friend Richie and long-lost mates from the summer of '98 in Doylestown, PA. Life can just take some of the most special souls in our world away in the blink of an eye, and we can never see it coming.
Jordan: I originally thought the entire record was going to be more in a direction of this song, but as it turns out, this is the only one of its kind on here. This one is a more laid back, mid-tempo, bouncy number. Really fun. Hard not to shake your hips to this one!
9. Where We Exist
Jordan: This was the first song we wrote with our drummer, John. Before starting to write together, we'd spend a lot of time improvising jams at our practice space, just learning each other's music language and learning how to communicate with notes and beats instead of words. Some of these jams would last 10 to 20 minutes, usually ranging from aggressive Hot Snakes-type riffs and falling into quiet, open picking, pretty sections. I think those jams specifically had a major influence on how this song fleshed out.
This is another one where Justin sent the opening riff over to us via text. John and I tried this riff about 10 different ways before we found the way it is on the record. The chorus just kind of flowed out of me naturally once we had the versus figured out. I don't know how I ended up playing those strange open chords, but all of a sudden, I kept playing it and it stuck. The bridge has a lot of build-up and tension, and Nick's bass part in that section still makes me tingle a little every time I hear it.
10. Jen
Justin: This is my response to losing an old high school mate to an overdose this past year.
Jordan: We had a few shows booked with our friends in The Pauses back in 2017. Just before the tour, Justin told us he had an idea for a new song and wanted to try it out solo at the shows. The first night, he opened with it and we were all kind of in shock. He'd written a very dark and personal thing. It had to be very hard to express this stuff the way he was, especially in front of all of us for the first time. I think he took his songwriting to the next level here.
11. Loose Ends
Justin: To put it shortly: friendship, perfect nights filled with mischief, brotherly loyalty, and a bond that never breaks in this life or whatever is next.
Jordan: This one is kind of a perfect bookend to the album. Lyrically and musically, it's kind of tying the themes of the entire album together. I don't think that was on purpose, but it kind of feels like the perfect ending. It just feels right.
'When We Were' by Teen Agers is released on 13th July on Smartpunk Records (pre-order).
Teen Agers links: Facebook | Twitter | Instagram
Do you have a new video or release you'd like to premier on Already Heard? If so contact Sêan Reid to find out more.
---
If you have enjoyed reading this article and would like to help us produce more content and promote more great new music, please consider donating to our Patreon page.