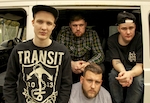 Cheshire pop-punks Above The Underground have announced they are splitting up, and have released the following message.
"After tens of thousands of miles, hundreds of shows, two vans, five members and eleven countries, Above The Underground are no more. It is with heavy hearts that we have decided to announce that we will no longer be playing music as a band.
We want to thank absolutely everyone that has been involved from our humble beginnings playing local shows in the woods to the incredible heights we never thought we'd reach. We're extremely grateful to say that we started out with the intention of playing music with our best friends and we did just that; Now we're bowing out – a little older, a little wiser, and closer than brothers. Above The Underground have always been a family, and that family will always live on.
Everything we ever did we did with our fullest enthusiasm, our fullest passion, our fullest pride. Now we're a little older and slightly battle worn from the experiences that come with touring around the world, and we have decided to leave with our heads held high and our integrity intact. We gave this everything we had and we're so proud of what this band became and of our incredible fans. We have no regrets and wouldn't change a moment. It has all been incredible, and we will all remain the closest of friends.
Thank you for making these the best years of our lives. We love you all.
Brandon, Nick, Will, Al, and Joey. xx"