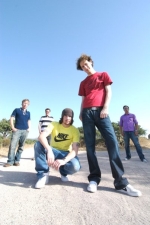 The latest names for next months Sonisphere Festival have been announced with seven bands being announced including Hundred Reasons.
The band will be reuniting for one show after splitting up in late 2012, the same year the band were set to play that year's Sonisphere event but was cancelled.
Now after a chance meeting between Sonisphere's Alan Day and Hundred Reasons guitarist Larry Hibbitt, they will perform their debut album, 'Ideas Above Our Station' in full on the Saturday.
Other names confirmed today are The Yoyos, Mixhell, Messenger, Dripback, Calling All Cars, Protafield and Blaas Of Glory.
Sonisphere 2014 takes place at Knebworth Park from Friday 4th July to Sunday 6th July.